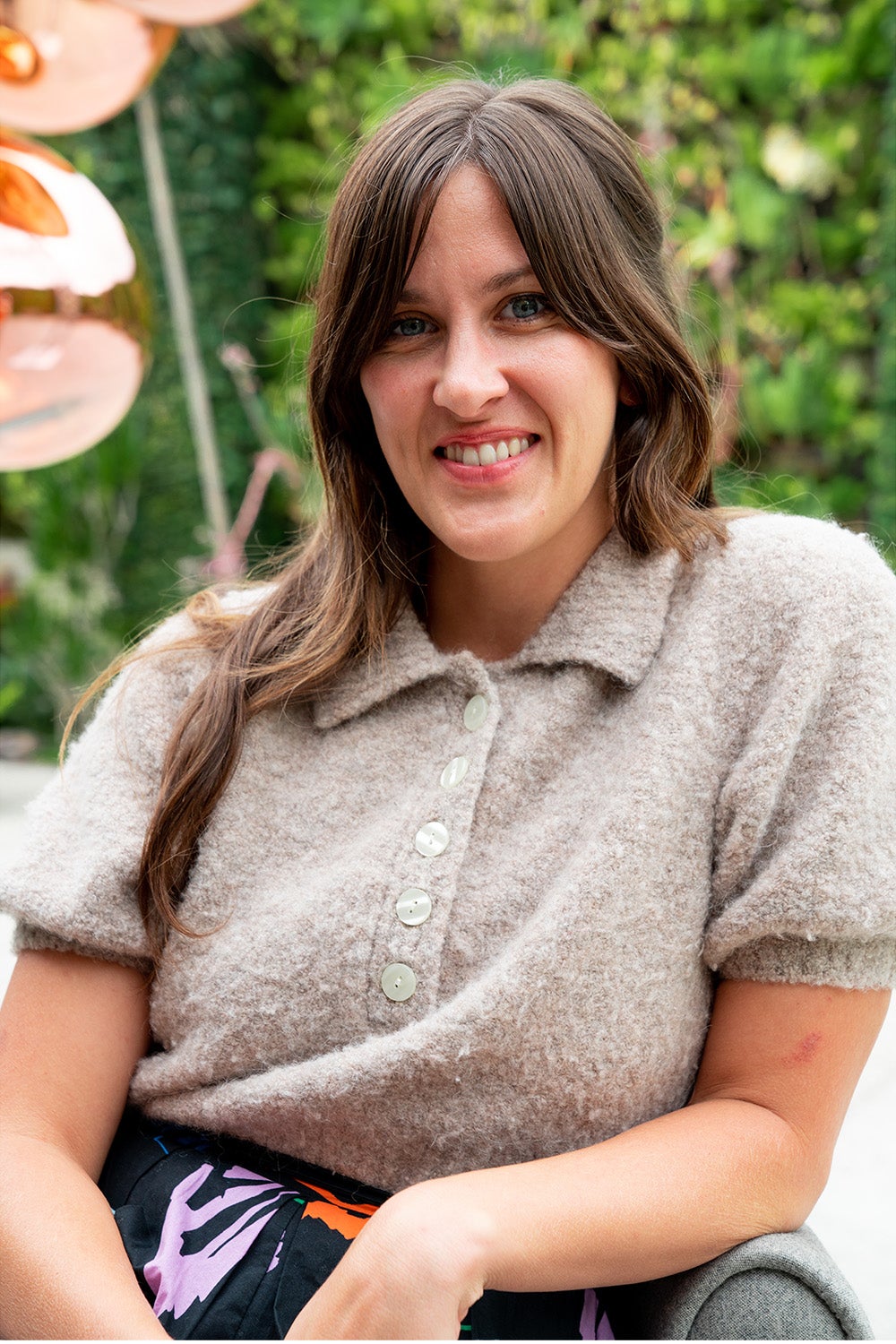 Adi Goodrich believes in the power of observation to inform good design. Whether the Los Angeles-based set, interiors, and installations designer is working on a grand sculpture or the recesses of a local marketplace, she is obsessed with one thing: looking. Her penchant for perceiving how materials and spaces work together—and independently—makes her a true innovator and led to her meteoric success in designing a vast range of projects.
It's a skill she cultivated alongside her father, watching him work inside the family woodshop. Under her father's tutelage, the young Goodrich witnessed the malleability of various materials and their construction, becoming obsessed with building and those who mastered the craft at an early age. After studying with the Chicago Imagists at the Art Institute of Chicago and La Sorbonne in Paris, Goodrich turned her well-tuned vision back toward L.A. and the California film industry. Eventually, after designing sets for commercials and films, she co-founded Sing-Sing Studio with her husband.
At Sing-Sing, Goodrich unleashes her obsessions with color and form to create spaces designed to tell stories—those of her clients, their guests, and anyone who experiences her designs. By focusing on spatial design—a term she is largely responsible for coining–and the storytelling ability of spaces, Goodrich's designs have an uncanny ability to become miniature universes…usually, ones we don't want to leave.  
Between designing a new retail shop in LA and a new gig with Google we managed to catch up with Goodrich to discover what inspires the worlds she designs every day.
How did you first get into interior design, or design in general?
I have been a set designer in LA since 2009, working in the world of photography and commercial filmmaking. I love set design, but felt the urge to create something for the public, so I began shifting my focus of design on interiors when I got my first commission from Monica Navarro for the shop Wine & Eggs.
What is your idea of good design? What is your goal when working with a client?
Good design is something that accomplishes the client's goals while working within budget, space restraints and—the most exciting part—creating something that doesn't follow trends, but instead stands on its own as something original.
Your work spans many different mediums—everything from retail spaces, to corporate offices to music videos and set design—but the unifying theme appears to be what you call "spatial design." Can you tell us about your approach to being a spatial designer?
Yes, I don't think designers need to put themselves in a box of a certain medium. I like creating worlds from the ground up. It's not the medium that matters to me, it's the inspiration, goals of the client and the world I get to build. So, I accept commissions or projects based on a brief – If I feel it's something I can add real value to, I'll commit.
Between all of these different types of work, what is your favorite kind of project? Is there one that stands out to you as a favorite, or is it still out there waiting for you to create? Do you have a dream project?
I really enjoy working on spaces in which the public gets to interact with the design. My favorite is probably Wine & Eggs, so far, it's an everyday market in a small LA neighborhood and I think it brings a lot of joy to resident's daily lives.
Do you have a design style or aesthetic? How would you describe it?
My aesthetic is often described as 'colorful and graphic' which is true, but I often think it's narrative, with a story that drives the design.
How do you like to start projects?
I love interviewing the clients—getting little bits out of them. We'll start with one idea- and the brief they ask me to fulfill—but as we talk more I find out why they started their business, what they find exciting in the world they exist in and even favorite colors or feelings they want to instill in their environments.
What inspires you?
The history of art and design, artist's lives, materiality and the way color can enhance a mood of a space.
What is the hardest part about running your business? What's your favorite part?
I'd say trying to fit all of my design goals into a budget. We make it work, but that's the challenge. And, I'd say that's also one of my favorite parts of the project. Because I choose to work with small businesses and entrepreneurs budgets are not always great—and that's the challenge I love about these types of projects. How do we create something original and memorable with a small budget? It leads me to really interesting uses of materials and collaborations.
How does community fit into your design?
I still work with my set builders and filmmaking resources even when I'm working outside of that industry. I love working with my set builder, Dustin, for example, I'll hire him to create sculptures and really specific builds in my interior work. I also love meeting and working with my contractors and cabinet makers. I love hearing the way they plan to approach a build and the decisions they make in material and construction.
What does being "an innovator" and being on the Innovators Council mean to you? How has being on the Innovators Council made an impact on you?
I want to push people to think differently. I think being an innovator is showing a wider audience ways to think and design in a new way.
What advice would you give a designer starting today?
Find inspiration off the internet.
What advice would you give your former self back when you started?
Don't lowball yourself.
Is there a piece of furniture or lighting that you "must have" in every project?
No, I try to not repeat things!
How do you like to source products?
I do a bit of online shopping, set design resourcing, and vintage on Etsy or auction.
What are your keys to a successful design project?
A happy client, an inspired team at the studio and guests/customers who love the final space.
---
Stay tuned for more from Adi Goodrich and the rest of the Lumens Innovators Council. Our next installment will be a video following along with Adi on a day in her life in Los Angeles, working on upcoming projects and sharing insight into her design process.