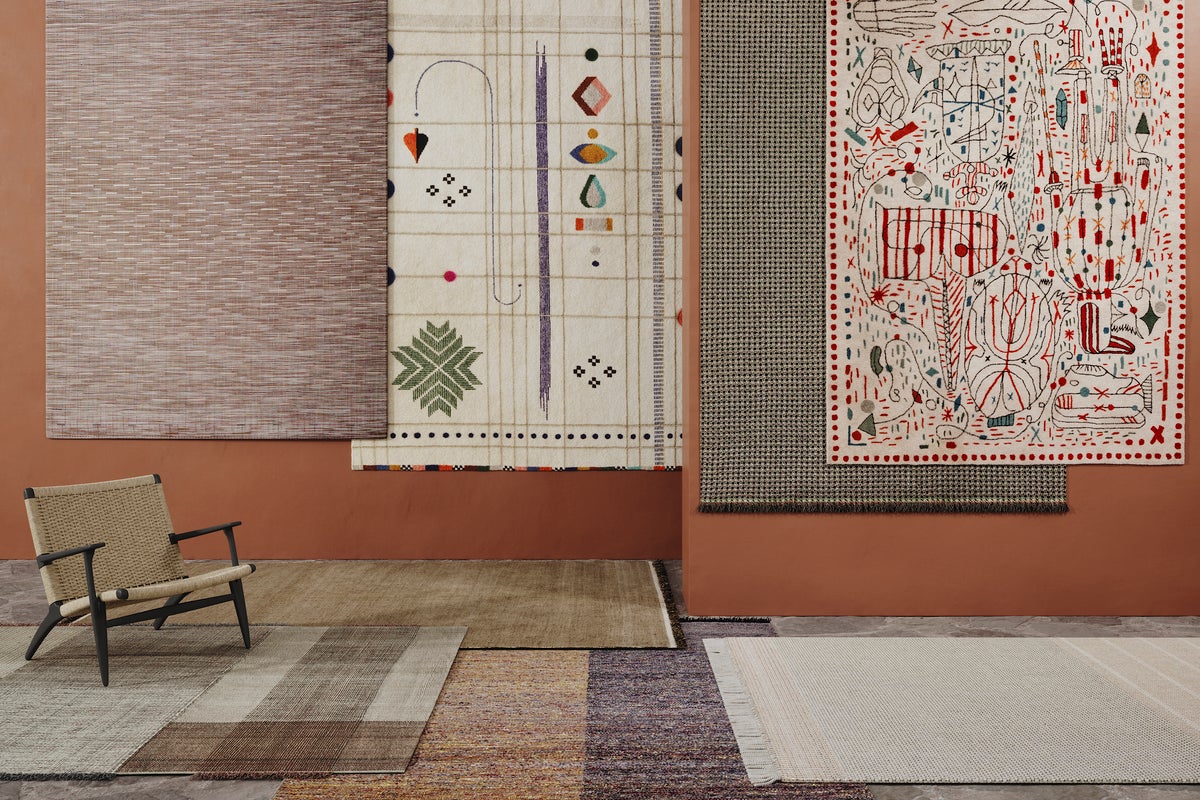 An area rug provides warmth, defines a space and provides the foundation for the style of a room. There are many considerations involved in buying a rug including location, size, color, pattern and durability. Our rug buyer's guide will show you how to find the right rug size for the room, how to place it, decide which material works best and see the differences between various weaving techniques.
Fitting a Rug to the Size of the Room
Finding the right size for a rug depends on several factors, such as the room's dimensions, the furniture placed on it, the room's function and the overall design of the space. Below are some general rules of thumb for picking the right size.
How to Size an Area Rug for the Living Room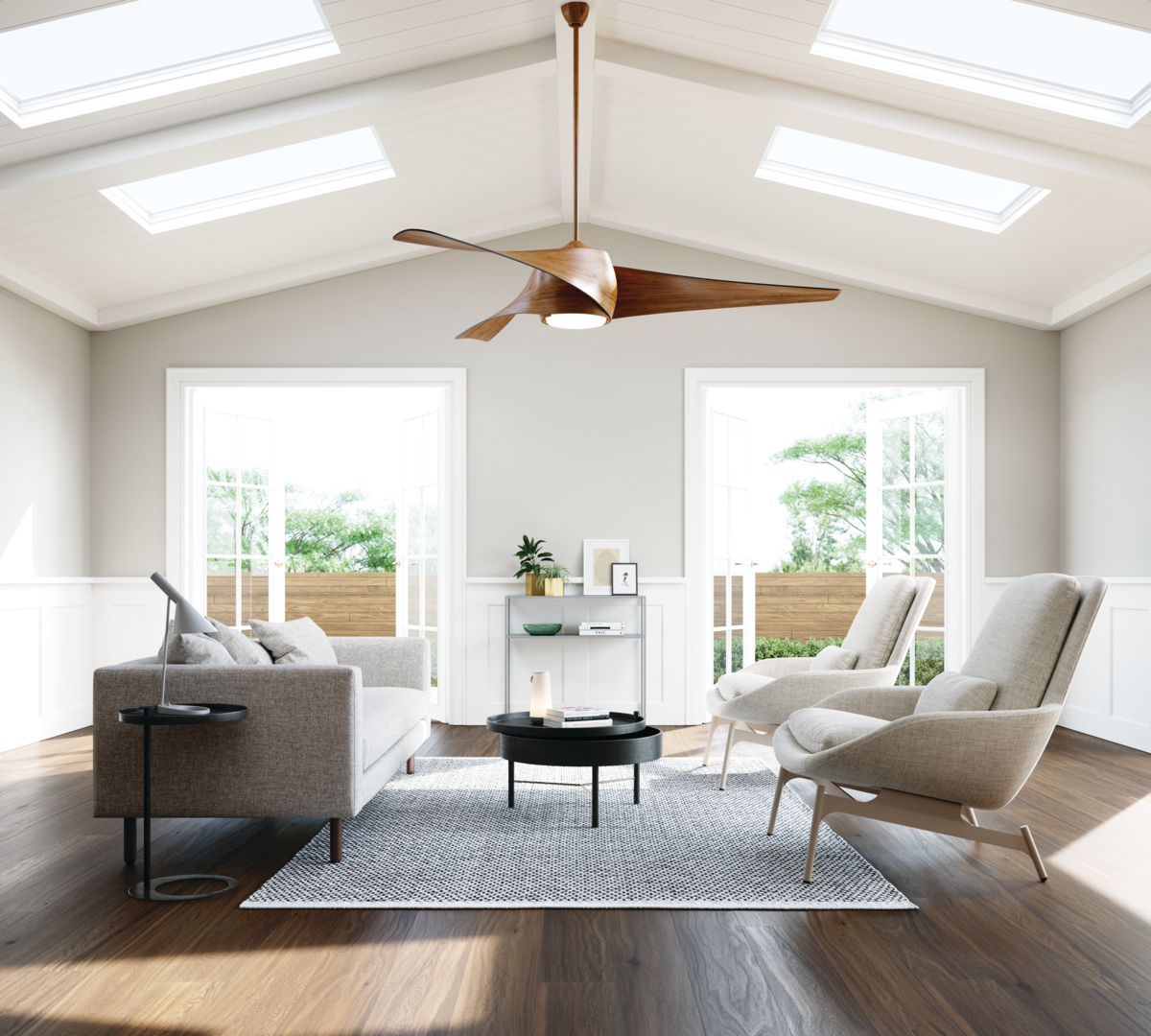 Determining the right rug size for a living room depends mostly on the placement of the furniture.
Place the area rug in either the center of the room or the center of the seating area, such as under a coffee table.
Consider the size of the area that is to be covered. Knowing this, the most standard rug sizes for the living room are:
5 x 8 area rugs and 6 x 9 rugs: With a 5 x 8 rug, there will only be enough room to cover the area beneath and around the coffee table. The area under couches and beyond will go uncovered.
8 x 10 area rugs: With an 8 x 10 rug, the area beneath the coffee table and couches will be covered.
9 x 12 area rugs: A 9 x 12 rug will cover most of the floor in most living rooms, which leads to a more consistent look.
No matter which size is chosen, how the seating is positioned should be uniform. Seating should be positioned with either:
No legs on the rug—often seen with 5 x 8 rugs and 6 x 9 rugs
Two legs on the rug—often seen with 8 x 10 rugs
Four legs on the rug—often seen with 9 x 12 rugs
If one chair has two legs on the rug, all chairs should have two legs on the rug. The added benefit of placing a rug under the seating means that the rug will stay in the same place.
Generally, it's best to err on the larger side. This gives you more to work with when accommodating more difficult furniture pieces, such as sectional sofas.
How to Size an Area Rug for the Dining Room
The dining room rug size should be larger than the dining table. Dining chairs should not be off-kilter and rock unsteadily. Make sure to install a rug size that accounts for the distance chairs get pushed back when people are sitting in them. A good starting point is to add about 36 inches to the length and width of the table (or to the diameter, if it is round).
For smaller dining rooms and circular coffee tables, consider using a round rug. Generally, round rugs go with round dining tables, square rugs with square tables and rectangular rugs to go with rectangular tables. Make sure to have at least 36 inches of room between the edge of the table and the end of the carpet for round rugs, as well.
If the dining table is extendable, choose a rug based on the longest measurement of the table when it's fully extended.
How to Size an Area Rug for the Bedroom
Nobody wants their feet to land on a cold hardwood floor first thing in the morning. Measure the bed and add anywhere from 18-24 inches to both sides. If there are nightstands, measure from the outer edges of both. Also account for any furniture that may rest at the foot of the bed, like an ottoman – two or four legs should fit on the rug.
Keeping that extra 18-24 inches needed for the sides of the bed, the most standard rug sizes for the bedroom are:
6 x 9 area rugs—fits twin, twin XL and full-sized beds
8 x 10 area rugs—fits queen, king and California king-sized beds
9 x 12 area rugs—used to cover more area in larger rooms
Another option for adding a rug to the bedroom is through the use of modern runner rugs. Instead of covering a large portion of the rug, add multiple runner rugs: two along the sides of the bed from the nightstand, and another at the foot of the bed.
Modern Rug Shapes: Abstract and Geometric
No longer confined to square or round shapes, modern rugs come in abstract shapes that look like parallelograms, overlapped ovals, hexagons or even stones.
The Parallelogram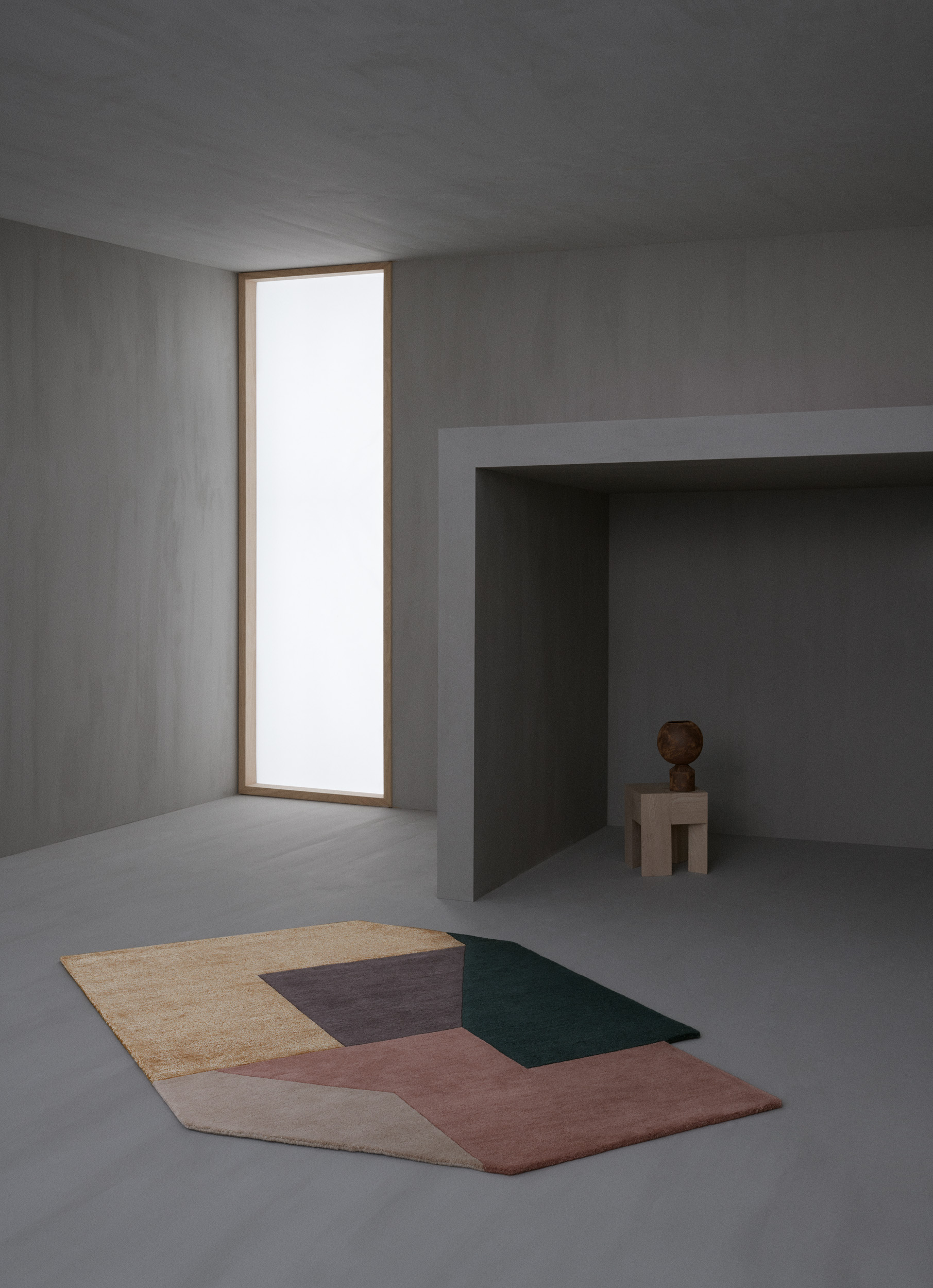 The Double-Oval
The Hexagon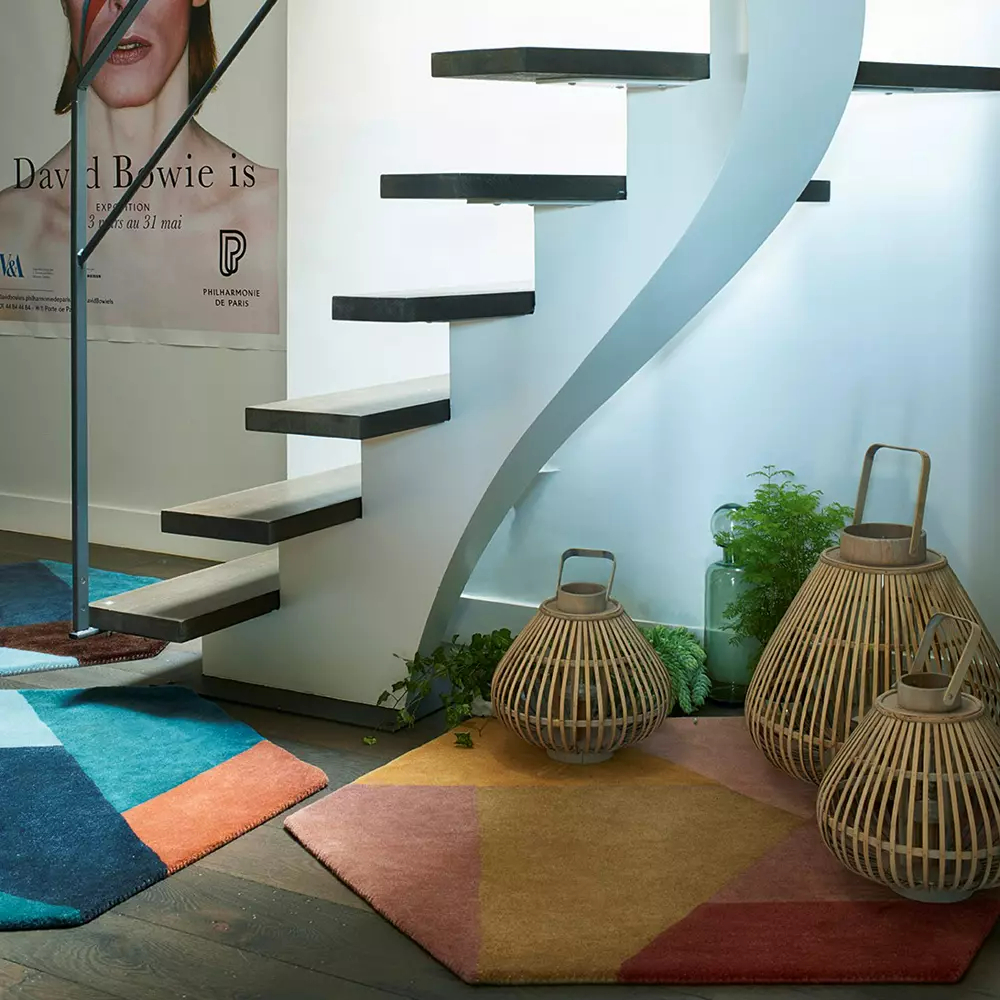 The Stones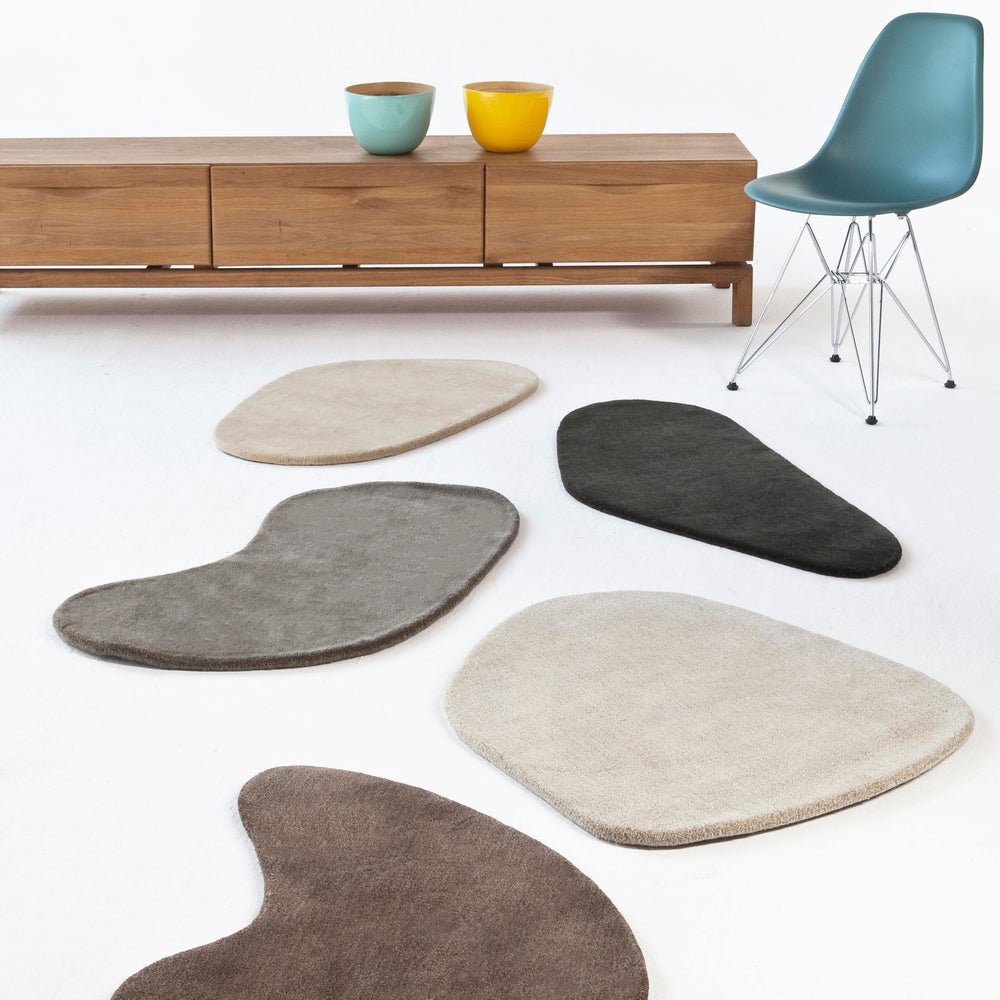 Rug Types: What's the Difference?
Part of the difficulty in picking the perfect rug is knowing what the options are. The different types of rug materials and rug weaves provide a very different type of rug that can serve different purposes. Here are some questions to consider:
Will the rug be walked upon often with both shoes and bare feet?
Is the rug expected to retain heat easily?
Is machine-washable important?
Should the rug shed?
Types of Rug Materials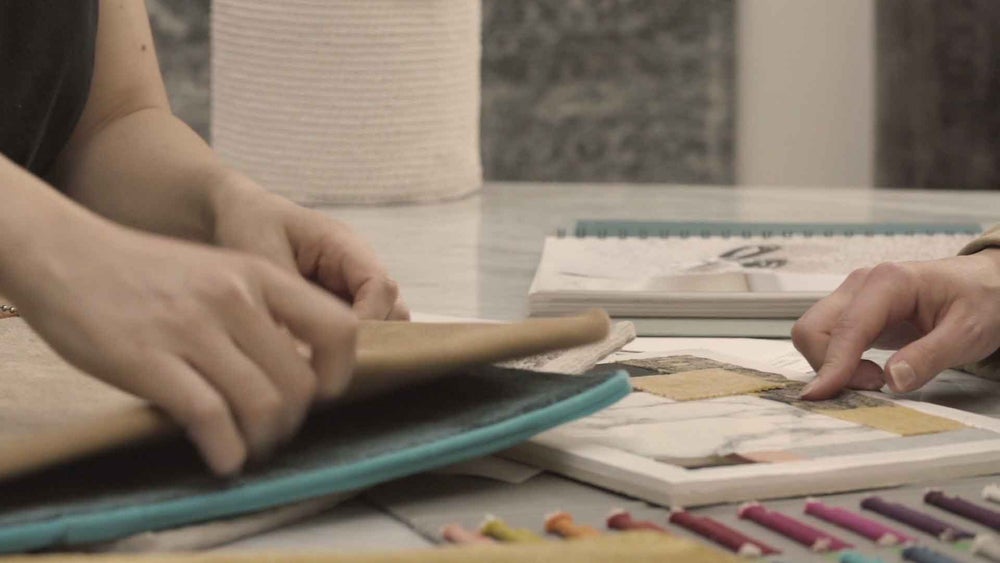 Depending on the material selected, there will be varying degrees of softness, stain resistance, durability and price. Some of the most common materials found are:
Wool Rugs
Reliable, soft, stain-resistant and affordable, wool is a smart choice for most rugs. If living in a cold area, consider this material because it has excellent heat retention. On the downside, however, they are prone to shedding due to their tufted construction. It is common to vacuum the rug at least once a week.
Silk Rugs
The epitome of luxuriousness and softness, silk rugs are a wise choice for bedrooms. However, they are sensitive to moisture and are more delicate than cotton or wool. The elegance and comfort of these rugs often make them more expensive than other materials.
Natural Fiber Rugs
Crafted from jute, bamboo and seagrass, natural fiber rugs are perfect for the eco-friendly and are among the most affordable. Some can feel scratchy and rough, so make sure to test each one before buying to make sure they are smooth and comfortable. Natural fiber rugs go best in dry rooms with a low possibility of being stained, as they can be difficult to clean.
Synthetic Rugs
Durable, easy to care for and stain resistant, synthetic rugs are a good option for indoor/outdoor spaces. Though the most common materials are polypropylene and polyester, a variety of durable materials can be found in these types of rugs.
Cotton Rugs
Cotton rugs are nice because they are versatile and easy to clean. Though they are less likely to shed than their wool counterparts, they are less durable. They are machine-washable, so they are easier to maintain.
Cowhide and Leather Rugs
For a real statement piece of a rug, consider going the cowhide route. The lay-flat rugs add a sleek, modern element to a space; another possibility is a plush, leather rug with a shag option if you're looking for something more comfortable to lounge on. Cowhide rugs are often in an odd shape, making them perfect for nooks, crannies and angled rooms of the home.
Sustainable Rugs
A leader in Fair Trade practices as well as sustainability in the rug industry, Nani Marqina is leading the way on sustainable rugs. "We strive to enhance our work with the use of biodegradable and recycled products, experimenting with different types of textures and fibers. Our traditional production techniques further contribute toward preserving natural resources for the use and enjoyment of future generations." -Nani Marqina.
To go a step further into the fight against environmental degradation, Nanimarquina has introduced Eco-wash in the cleansing of its collections: the natural washing product Ecosheen is a biodegradable and free-of-chemicals multienzyme washing product, while powers the bright colors, shine and softness of each fabric.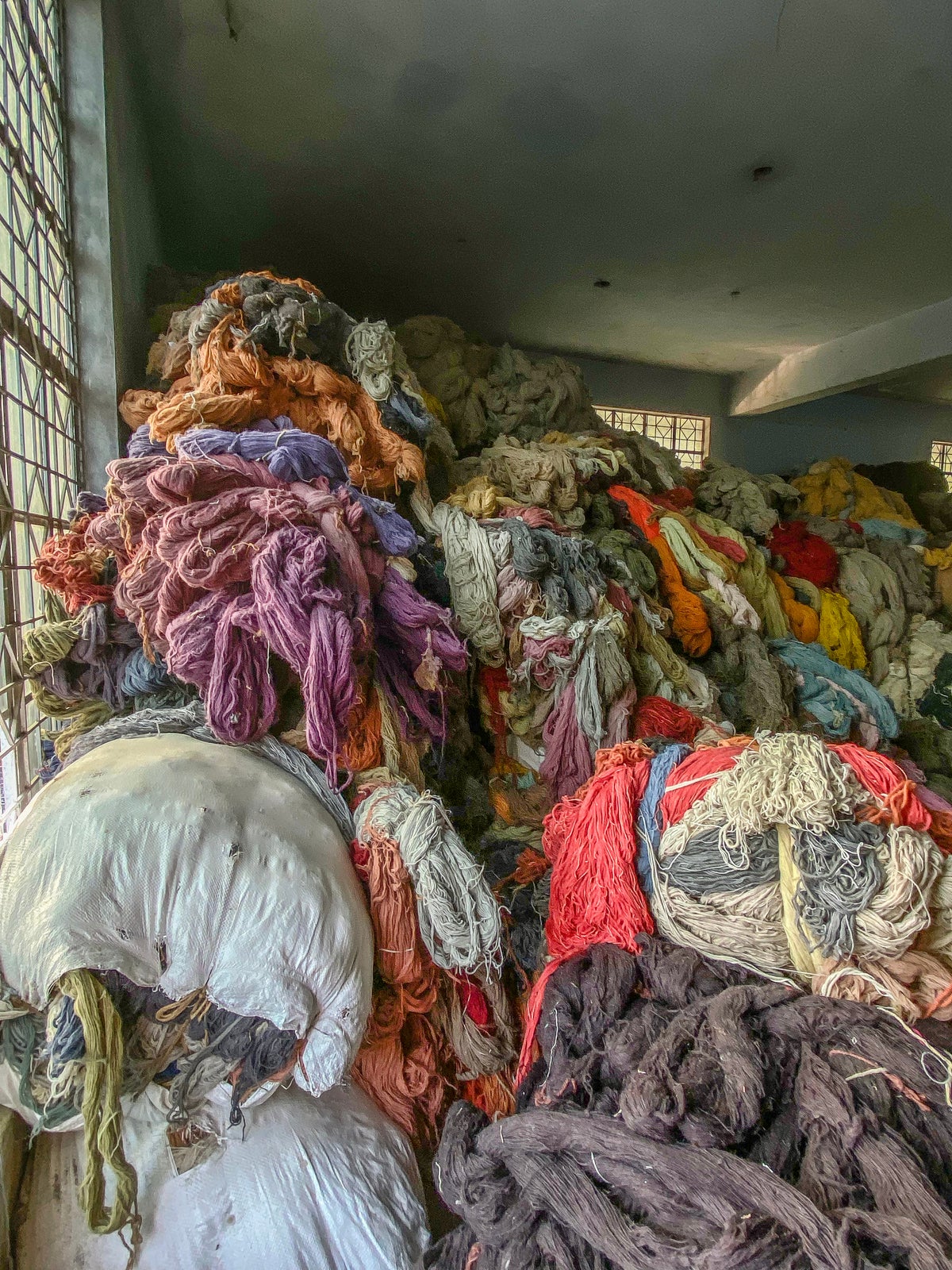 Another champion of sustainable floor coverings is Chilewich. The brand's proprietary manufacturing process for rugs, mats and placemats uses yarn that has a minimum of 18% renewable vegetable content and is free of toxic materials. The plasticizer is derived from soybeans rather than petroleum for 40% reduction in greenhouse gas emissions as well.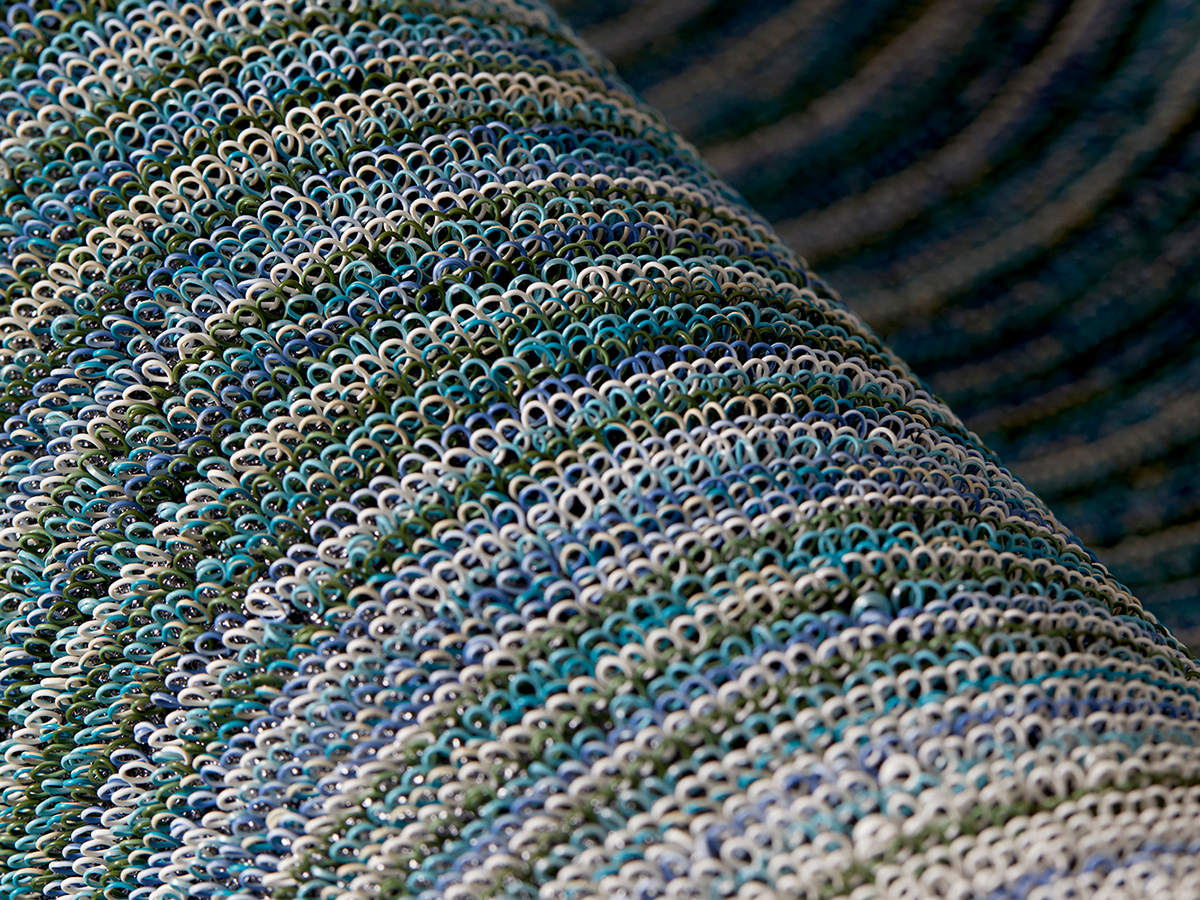 Types of Rug Weaves
An area rug's weave has a huge impact on how it feels and how it will have to be maintained. Here are some of the most common weaves:
Hand-Knotted Rugs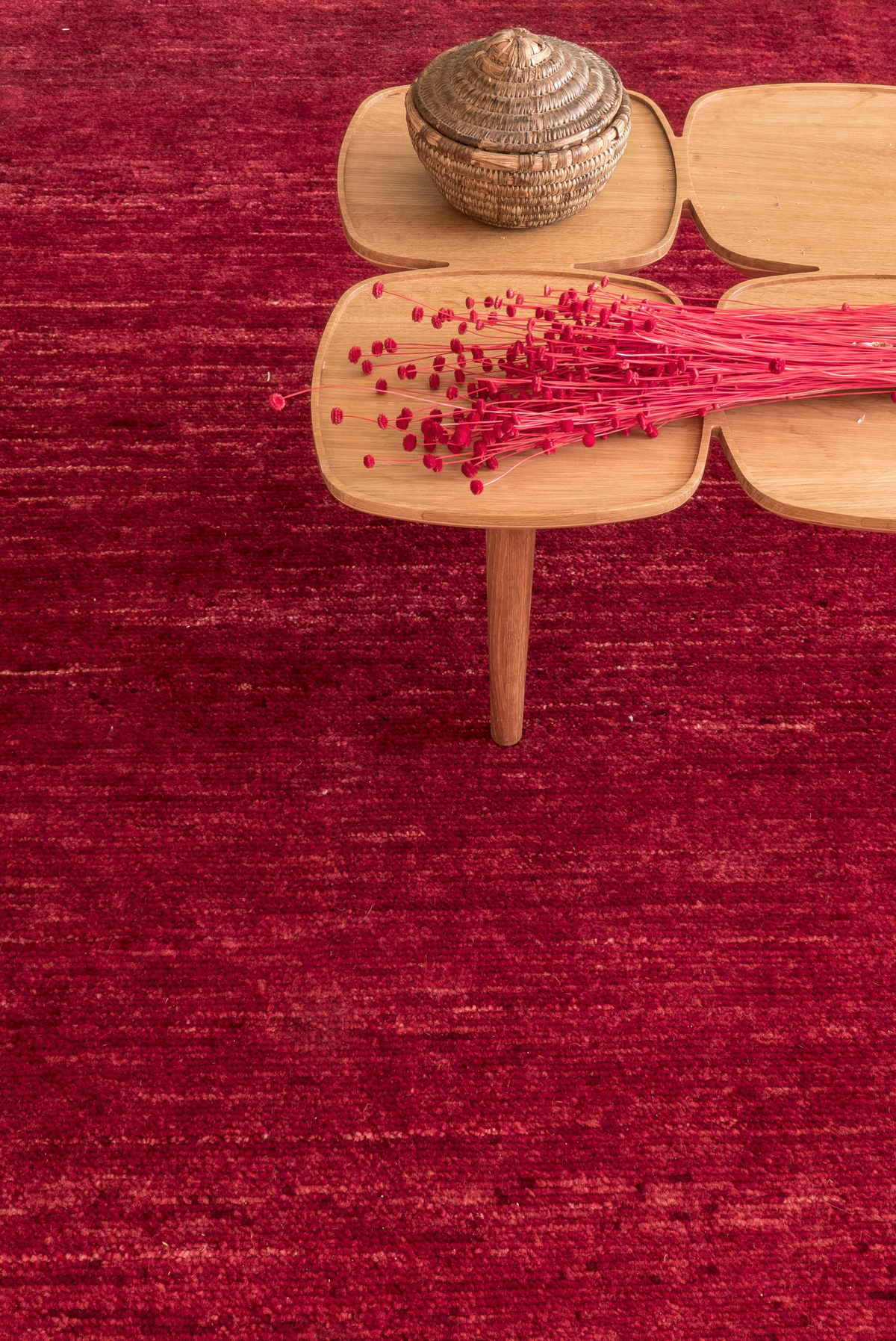 As the name implies, this technique involves the rug fibers being knotted by hand on a loom. This time-tested method creates durable rugs that will last a lifetime. However, this technique comes at a higher price.
Tufted Rugs
Attached to a latex backing, tufted rugs are made by trimming the tops of loops of yarn to create a flat, plush surface. Easy on the wallet, these rugs come in a wide variety of styles. Just keep in mind that they are prone to shedding and require frequent vacuuming.
Hooked Rugs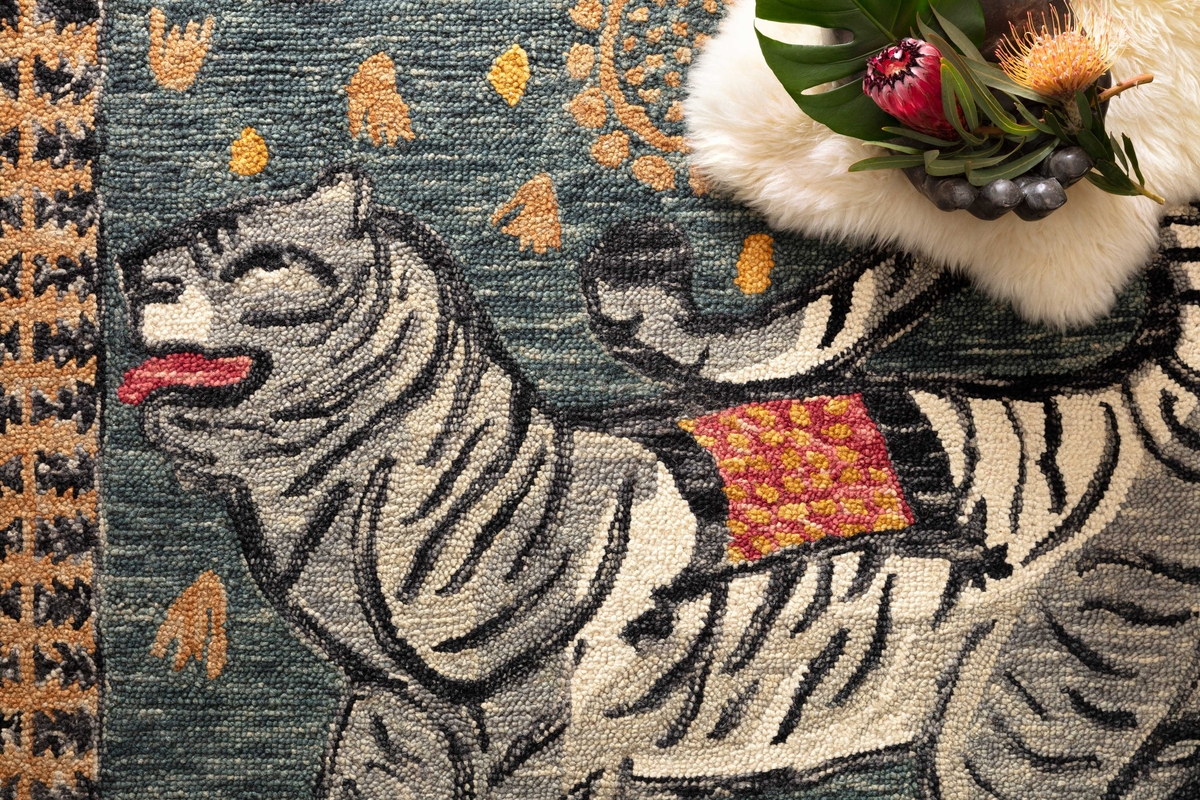 Hooked rugs are similar to tufted rugs, but in this instance, the tops are not lopped off, giving the rug a nubby and textured quality. This is beneficial because they shed less.
Flatwoven Rugs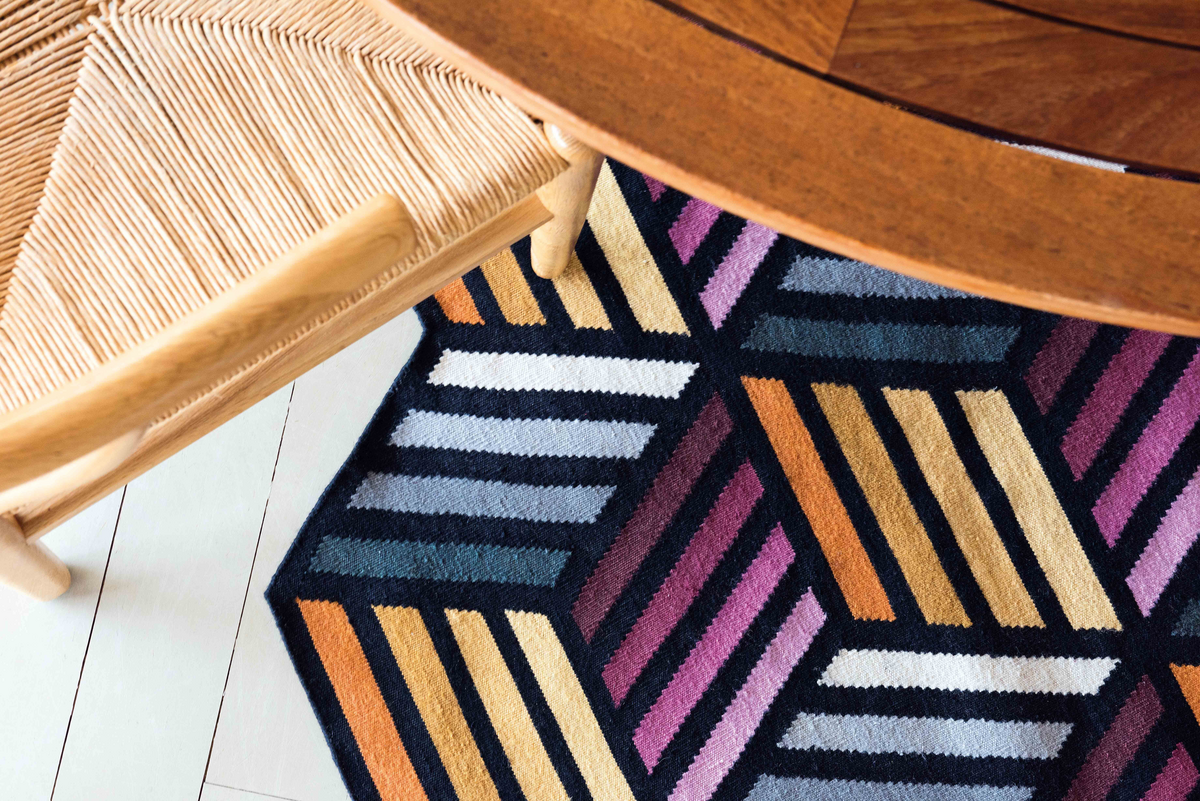 Reversible with the pattern visible on both sides, flatwoven rugs are great for high-traffic areas like entryways and living rooms. They are mat-like rugs that are versatile and durable. They do not come with any backing, however, so a rug pad is highly recommended.
Machine-Made Rugs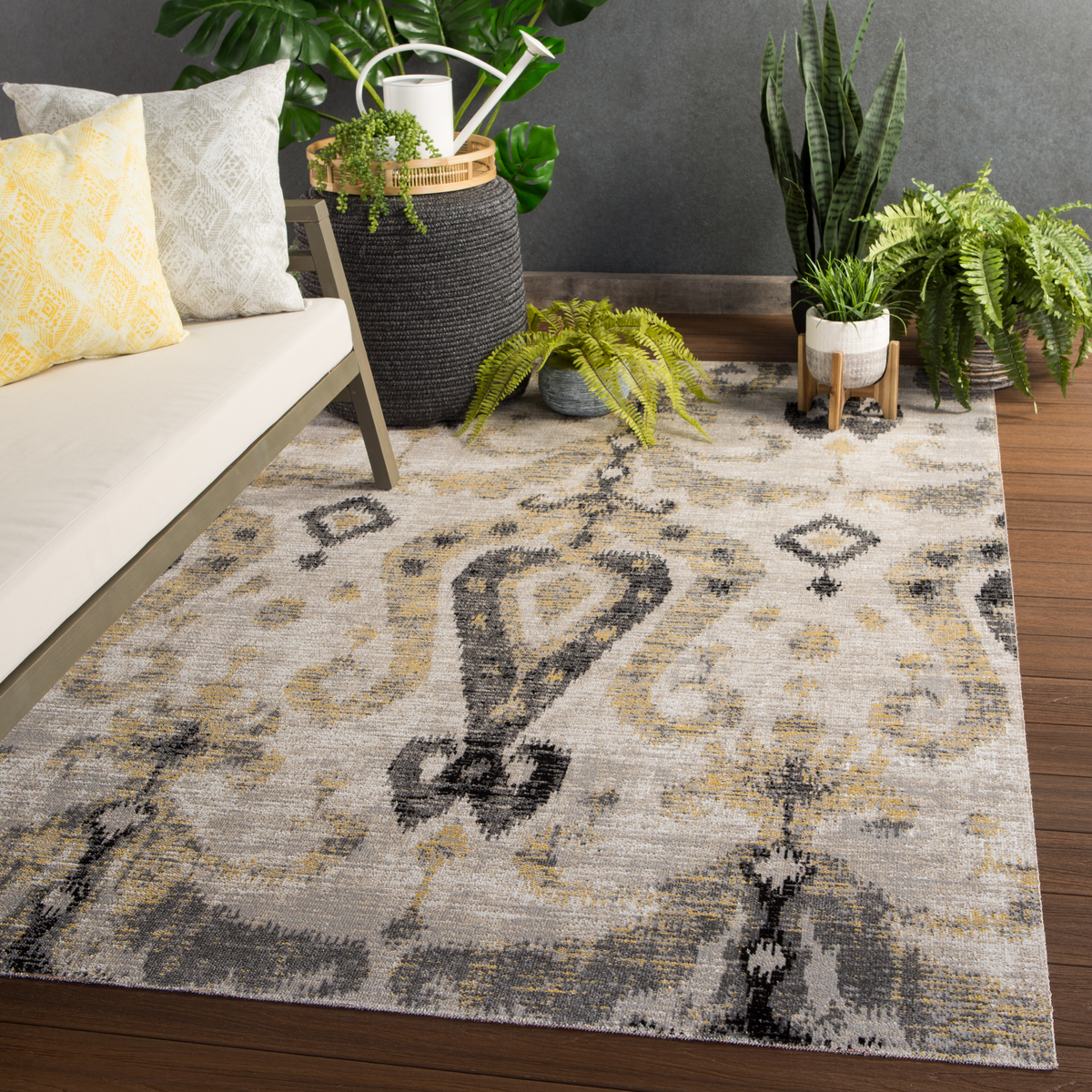 Machine-made rugs, woven on electric looms, can encompass a wide variety of styles and materials. They are often cheaper and are highly resistant to stains, but they can crush easily, so are best for use beneath dining tables, which have low foot traffic.
Outdoor Rugs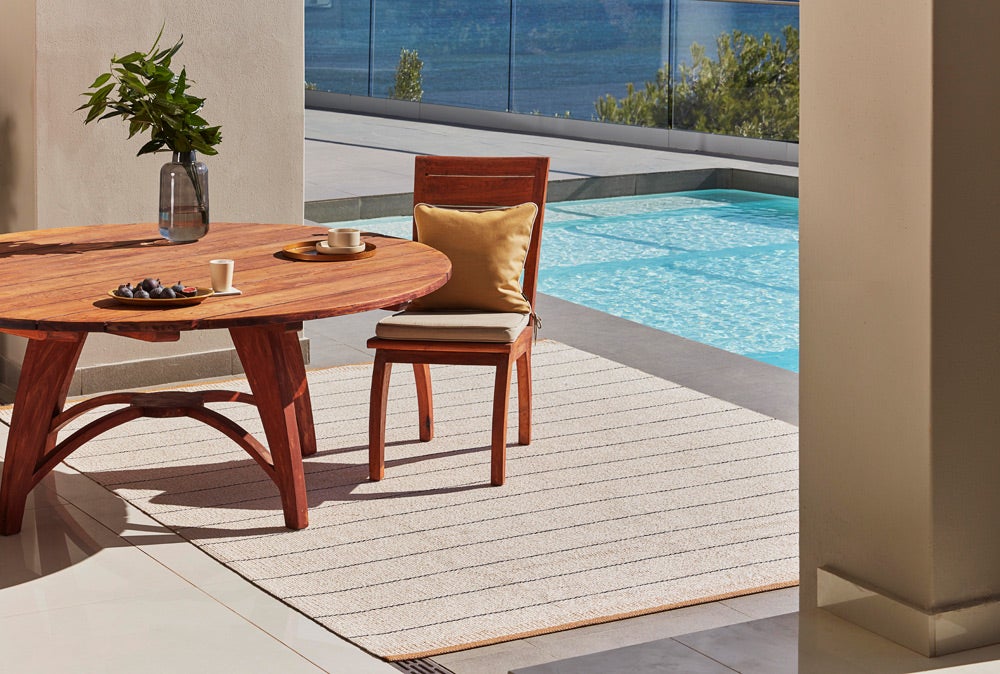 While outdoor rugs are made of more durable materials to withstand the elements, the same rules (size, placement, style choices) apply when it comes to creating an outdoor living room. Defining a patio area as a lounge space, or cozying up a small balcony are some of the many options when it comes to bringing outdoor rugs into the equation. And, because they're highly durable, they can even be used indoors in a particularly high-traffic area.  
Proper Rug Care and Rug Pads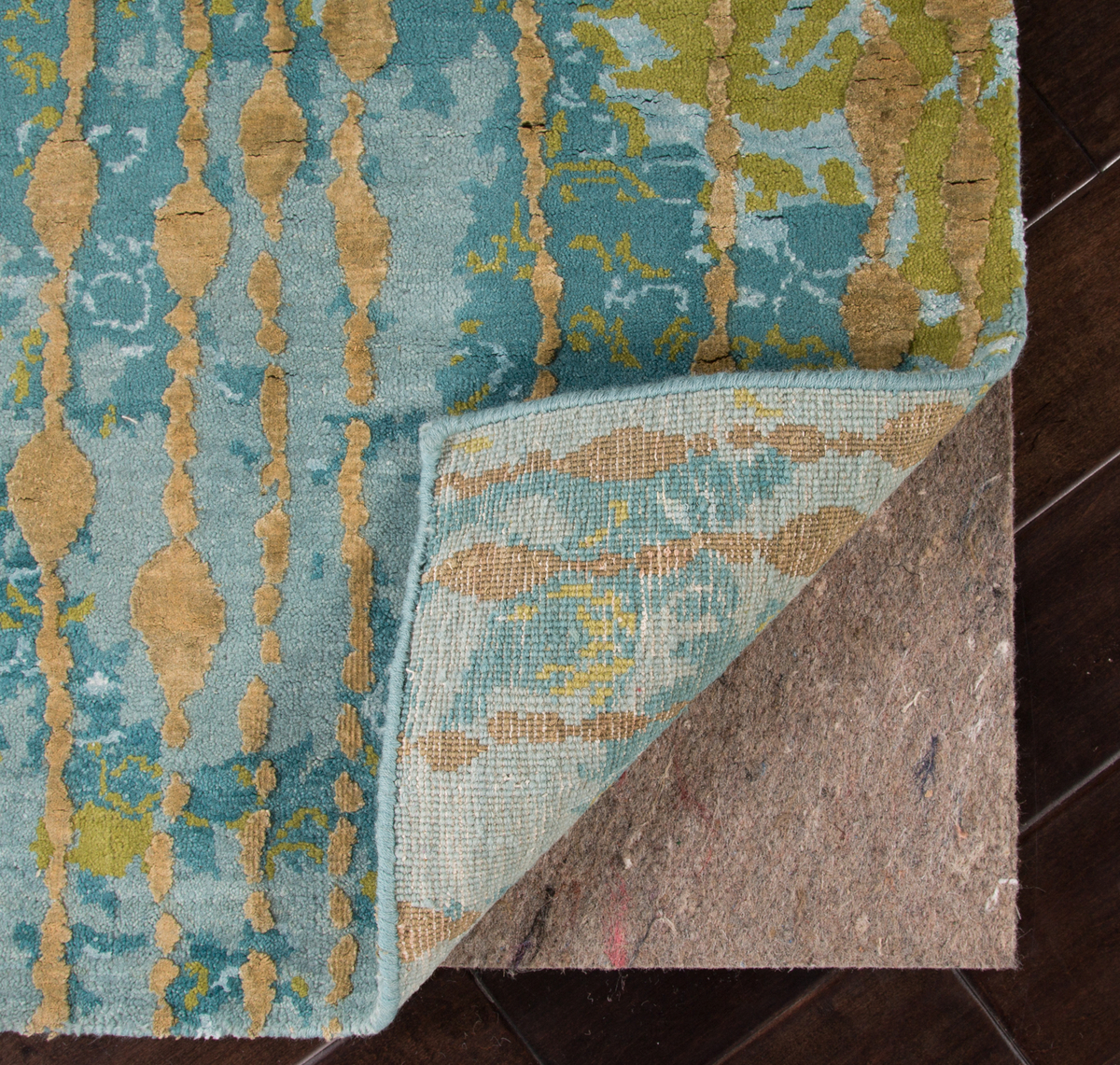 Unless the rug has a built-in rubber backing, a rug pad is necessary. Since rugs are usually used on hard, smooth surfaces, a rug pad provides friction to keep the rug from sliding around. A rug pad provides safety while preventing damage to the underside of the rug. Some rug pads work on both hardwood floors and carpet, allowing for versatility in how the room looks. In wet locations, the right rug pad promotes air circulation so the rug dries more quickly. Higher air flow also allows for easier vacuuming. A proper rug pad is slightly shorter than the rug itself as to avoid being seen. 
Cleaning Your Rug
In addition to regular vacuuming, follow the manufacturer's directions when it comes to cleaning your rug because different materials require different processes. When spot cleaning, make sure to test the cleaning solution somewhere inconspicuous in order to make sure it is color-safe for your rug. Most rugs will shed for weeks if not a few months of vacuum cleaning and vacuuming more often is usually a good idea until shedding subsides.
Now, the Floor is All Yours
Planning out the interior design of each room with an ideal floor covering is an easy and quick way to transform the room without having to re-arrange furniture. The right rug can create spatial organization in an oversized room, or establish an element of airiness in a smaller, cluttered room.
Picking the perfect rug for the space depends on quite a few different factors. The rug size depends on the room size, the room in question, the furniture and the style to be achieved. Meanwhile, the rug type can merely be a stylistic decision, or it can fine-tune the way the rug is maintained and the way it functions by choosing the right weave and material.