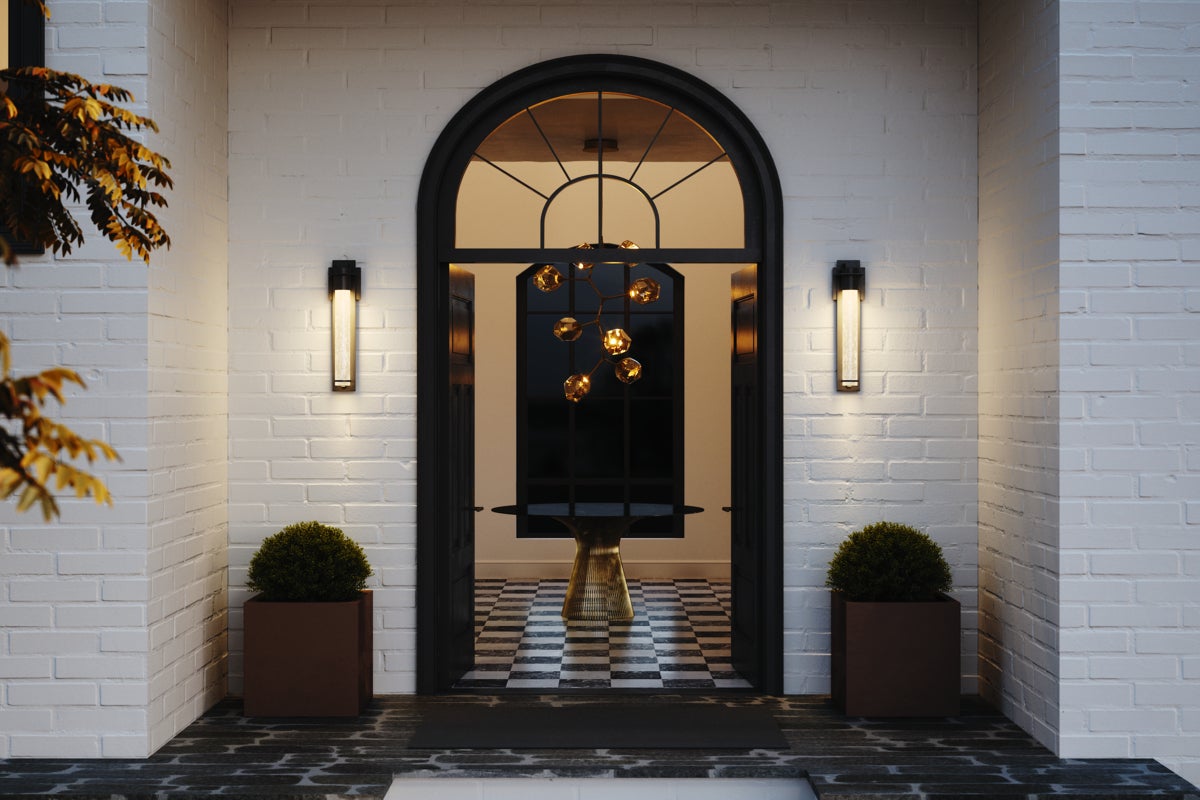 As living spaces extend beyond the walls of your clients' homes, a considered outdoor lighting scheme is essential. In addition to providing important footpath visibility and entrance-point peace of mind, outdoor lighting can serve as ambient lighting for outdoor entertaining and as a decorative accent to highlight exterior features.
Outdoor lighting options are becoming as varied in design as interior fixtures, from transitional to ultra-modern, and can even be decorative elements in themselves. Here, we'll explore the key outdoor lighting guidelines to consider when approaching an exterior design project.
Entrance Lighting
Purpose: Entrance lighting is important for safety and visibility when unlocking and opening doors and maneuvering through them.
| | | |
| --- | --- | --- |
| Type of Outdoor Area | Types of Lighting | Placement Tips |
| Single front, side door, tight spaces | Single wall sconce | Install light on the keyhole side |
| Double doors, with or without porch/overhang | Pair of wall sconces, overhead light | Flank the doors with a pair of lights; add overhead if desired |
| Large or wraparound porch, porte-cocheres, covered patios | Wall sconce(s) next to doors, overhead recessed or flushmount lights, outdoor pendants or chandeliers | Use overhead lights at intervals in large spaces, or a larger scale statement light, add extra visibility and presence |
| Garage door | Pair of wall sconces, RLM/barn light fixture, flood lights | Wall lights are nice for curb appeal but a centered RLM or flood light can shine over a wide area like a driveway |
A good measurement guide for outdoor wall sconces is to ensure the fixture is about ¼ the overall height of the door it's next to. Some aesthetics may deviate, depending on your client's needs.
Landscape Lighting
Purpose: Landscape lighting is largely aesthetic and can highlight areas that would not otherwise stand out, but it can also be functional for safety as with path lights.
While landscape lighting can be considered its own project, and often has a dedicated team to tackle it, clients may expect that all their exterior lighting is part of a cohesive plan.
Path lights are often considered part of a landscape lighting scheme. They may require digging to bury electrical wires, or pouring concrete for in-ground types.
Spotlights can be used to highlight trees, shrubs or architectural elements.
See our Landscape Lighting Guide for more.
Accent Lighting
Purpose: Accent lighting is another way to highlight features that aren't necessarily part of a landscape (i.e. walls, buildings) and some path lighting—like step lights—serve as both accent and practical functions.
Like the name implies, accent lighting serves to highlight architectural and landscaping features.
Lighting fence posts, walls and hedges delineate boundaries.
Step lights and path lights are functional accents that add safety.
Key considerations for accent lights are the same as landscape lighting.
May require a separate installation team for digging underground and installing with or near water features.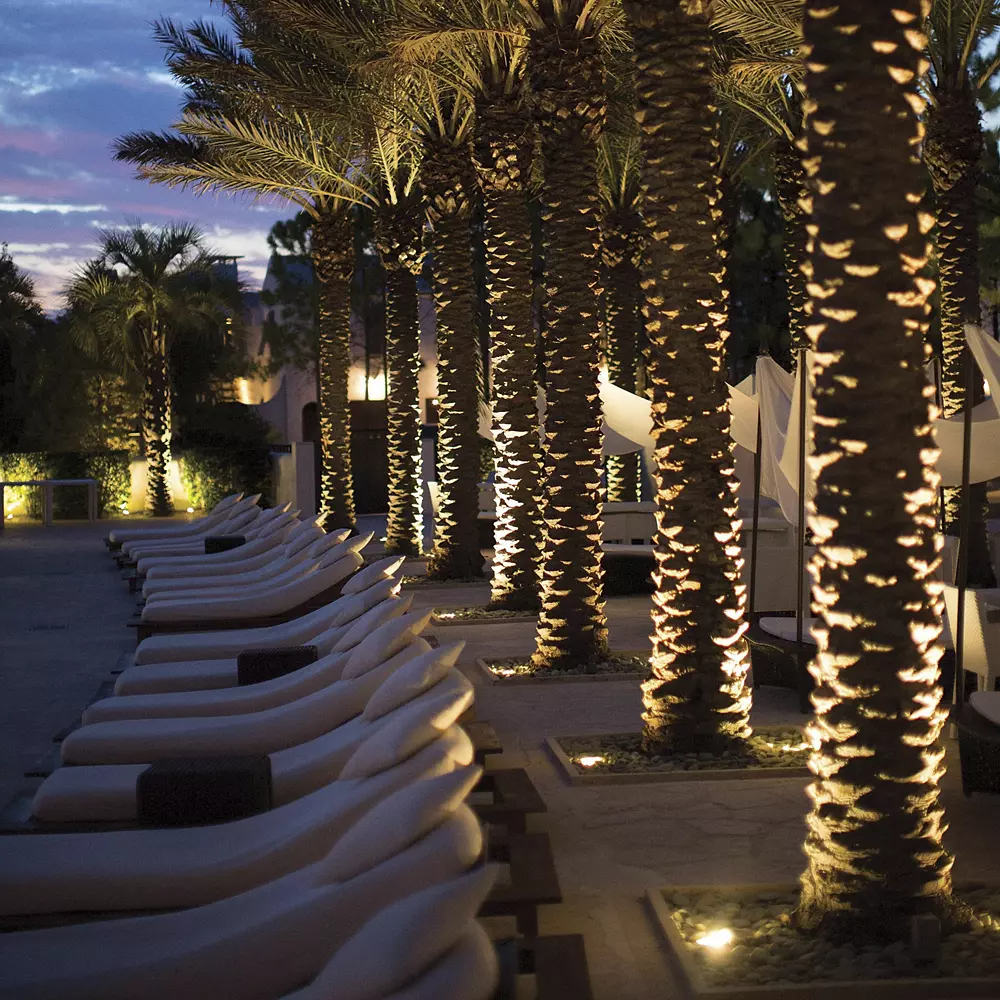 Materials for Outdoor Lighting
Lighting for outdoor applications is made to withstand exposure via both its material and its engineering. Metal, glass and acrylic are the most prolific materials, each with its own benefit.
Metal
The most-used metal in outdoor lighting design is aluminum; it's durable, lightweight and malleable to create just about any shape. It's also stable when exposed to the elements. Some metals (e.g. copper, brass) will develop patinas over time that look markedly different from the finish out of the box. Others may be coated to prevent that natural weathering.
Marine-grade finishes: Ideal for coastal/humid applications 
Powder-coated metals: Resist rust better than untreated finishes
Glass and Acrylic
Modern acrylics resist discoloration and weathering, but glass is still a popular choice for outdoor lighting designs. Glass is commonly used as part of a design, while acrylic is often seen in diffusers.
Outdoor Lighting Construction
To cope with the elements and unique outdoor-only concerns, outdoor lights are made to different standards of use than indoor-only lighting.
Integrated LEDs: Factory-sealed fixtures that use LEDs will last longer than incandescents and will not need replacing, which would damage the seal.
Dark Sky compliance: If your project is in a community that has a light pollution ordinance, you will need to source lights that are compliant; they will be notated as such.
Ratings for Outdoor Lighting
To determine if a light fixture is safe for outdoor use, look to its UL rating, which tells you how much moisture a fixture or fan can withstand.
UL Wet Listed: Can be hosed down and completely exposed to rain or other elements.
UL Damp Listed: Can be installed outside in sheltered locations only—under a covered patio or gazebo, etc.