Whether building out a new home or upgrading an existing one, integrating smart-home devices into the project has become easier than ever. When it comes to planning a smart-home lighting (and smart ceiling fan) plan, there's plenty to consider in addition to the usual interior design factors.
The Benefits of a Smarter Home
Today's technology has given greater control over our lives than ever before. Smart-home devices can set the temperature inside, turn on landscape lights to welcome us home, play music in multiple rooms of the house, set up atmosphere profiles for different events—like dinner, movie night, cleaning the house—and even automate the lights to slowly brighten each morning. And now, most smart-home control can be done without even swiping a finger, thanks to voice assistants like Siri and Amazon's Alexa.
Ways to Make a Home Smart
Smart Light Bulbs
Almost inarguably, the lowest barrier to entry into your smart-home upgrade starts with smart light bulbs. They offer color and brightness adjustments using a remote control, so you can control the ambiance for any occasion, from cozy nights in to lively dinner parties. Smart bulbs can be integrated into existing smart-home ecosystems, allowing for seamless control through voice commands or smartphone apps. With their energy-efficient LED technology, smart bulbs can also help to lower your energy bills while reducing your carbon footprint.
Smart Switches, Dimmers and Controls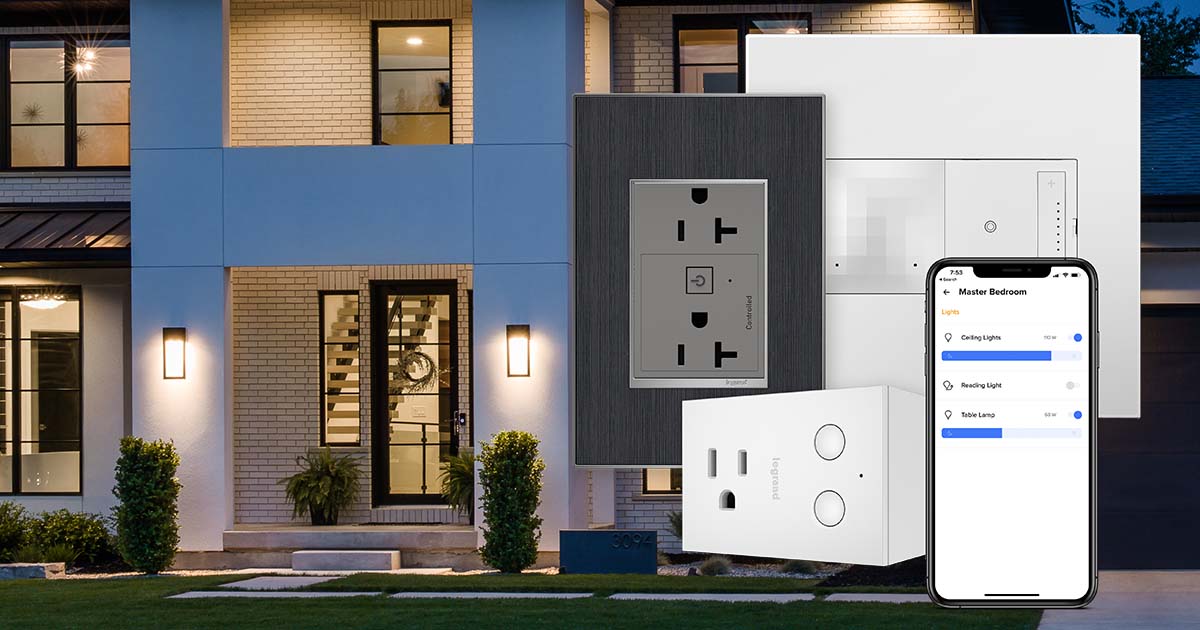 Replacing existing controls with connected smart switches and dimmers is an effective way of turning existing hard-wired lights and fans into smart lights and fans. With the smart controls in place, the lights will continue to function the way they did, but can now be controlled from anywhere in the room—or world, depending on signal strength.
Smart Fans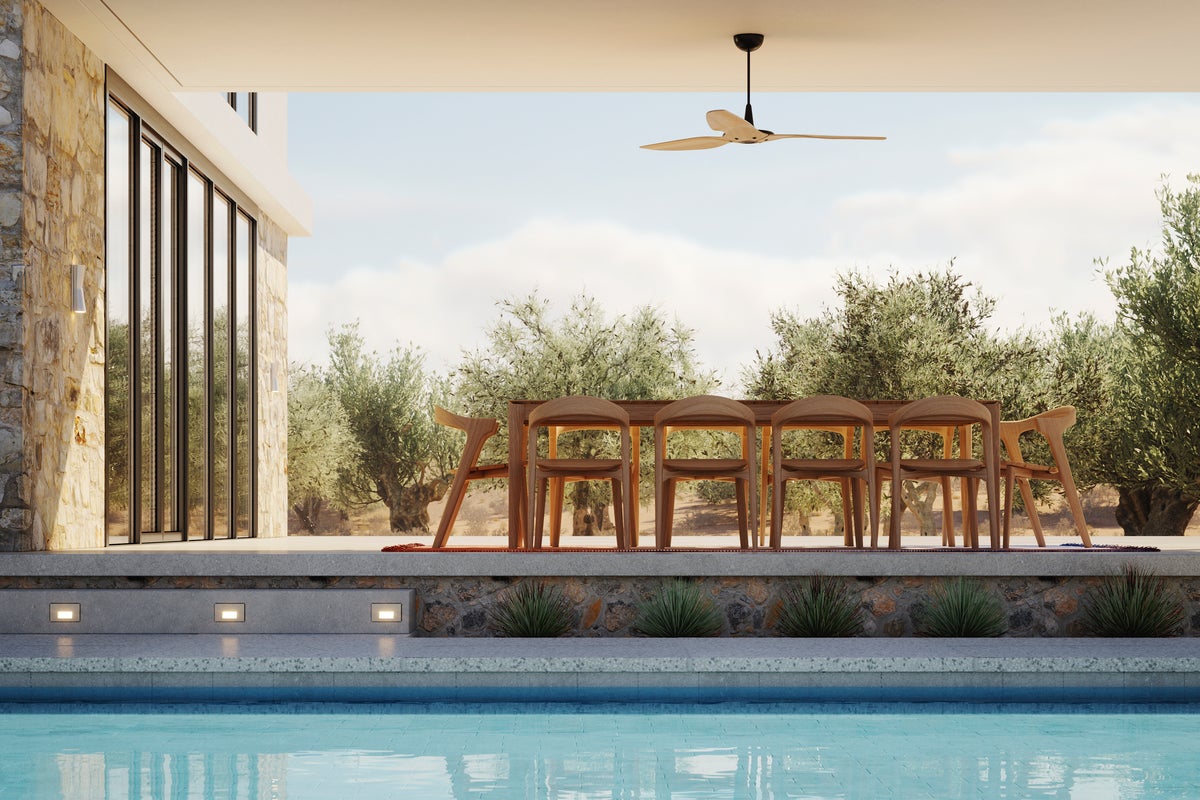 Installing a smart fan is another quick way to get smart. As a standalone device, it brings smart-home tech to any room instantly, but it can also be incorporated into a smart-home system, depending on compatibility. Smart fans allow for control of the temperature, syncing with a smart thermostat and can even be activated using voice assistants. The newest smart fans take energy efficiency to a new level through built-in sensors that automatically recognize changes in the room's temperature and humidity and act accordingly to maintain the desired atmosphere.
Bluetooth Pairing
Often a feature of portable and cordless lighting, lighting that pairs to a smartphone or tablet via Bluetooth can be controlled on the go and without the requisite Wi-Fi connection that devices need to function properly. Some dual-duty portables also offer speakers to bring even more mood wherever you go.
Smart Mirrors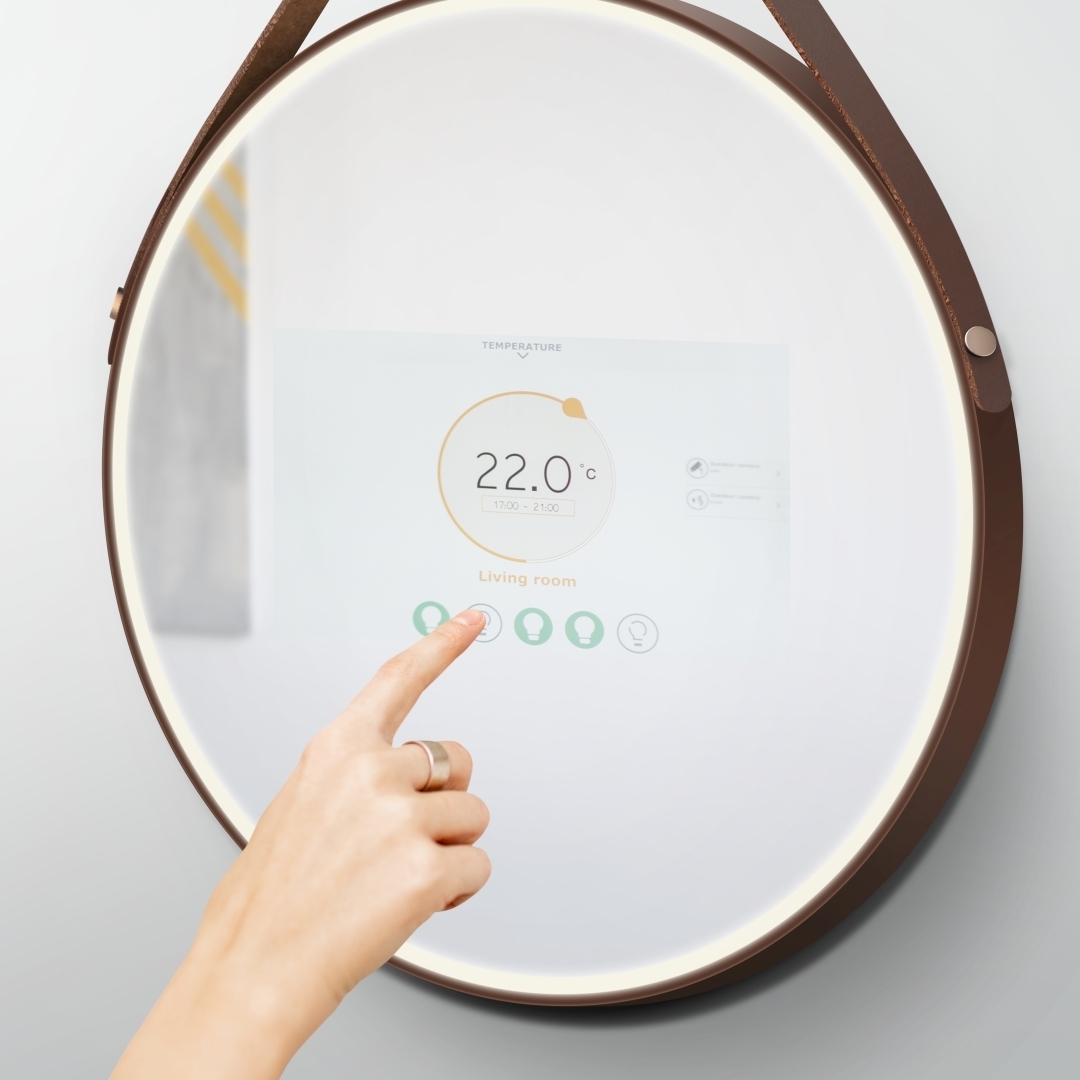 Don't overlook the ability to update bathroom spaces. Lighted smart mirrors offer a range of features that will optimize and energize the morning routine, including motion sensors, integrated LEDs and even touch-screen displays that play video and stream audio without disrupting the reflection.
Smart Additions
Connected accessories to improve health and well-being are popular add-ons to a smart-home configuration. Smart weather stations, entry devices (like locks and video doorbells) and air quality sensors can increase safety and enjoyment with ease of use made possible by interactive technology. This segment of smart-home devices is growing fast, with new products to enhance indoor and outdoor living across a plethora of use cases.
Controlling the Smart Home
Hey, Google
Google has built a sophisticated voice recognition system, plus all of the benefits of being the native platform for Nest products (thermostats, baby cameras, home security and more).
Alexa
Welcome to the Amazon universe. Summoning "Alexa" will allow you to dim smart lights, start a ceiling fan, play favorite tunes on a wireless speaker and order another box of tissues.
Siri
As the grande dame of voice assistants, Siri now has control of all Apple Home devices as well as all iOS compatible ones.
Proprietary App
Many smart devices come with their own apps that allow more control over the device. Sometimes that's helpful, especially with devices that try to learn habits, such as thermostats and smart fans.
Is a Smart Home hub needed?
Not necessarily—well, at least not a physical "hub" that sits tucked away somewhere out of sight. In order to control a smart home, a theoretical hub is needed—and this device can be one of many things, including a speaker, small screen or even a smartphone. Amazon uses the Echo devices as a hub; Google has Google Home, which is a speaker-like device that also has a microphone; and Apple's smart-home ecosystem can be run through an iPhone, iPad or Apple HomeKit.
One Step Closer to a Smarter Home
Most smart homes don't happen overnight. Finding an entry point into the smart-home game can easily be done one device at a time—whether that's a smart fan, a smart thermostat, smart dimmer or video doorbell. Be sure to assess the compatibility of these products if the plan is to use them in tandem or control them all with one virtual assistant (for example, some manufacturers are notorious for not allowing certain third parties into their ecosystem).
Adding smart devices is also a smart idea for selling a home, now that a new wave of tech-savvy home buyers are aging into the market. Whether buying, selling or making a few small updates to an existing setup, anyone can benefit from the comfort and convenience that smart-home-ready lighting, fans and controls are made to offer.