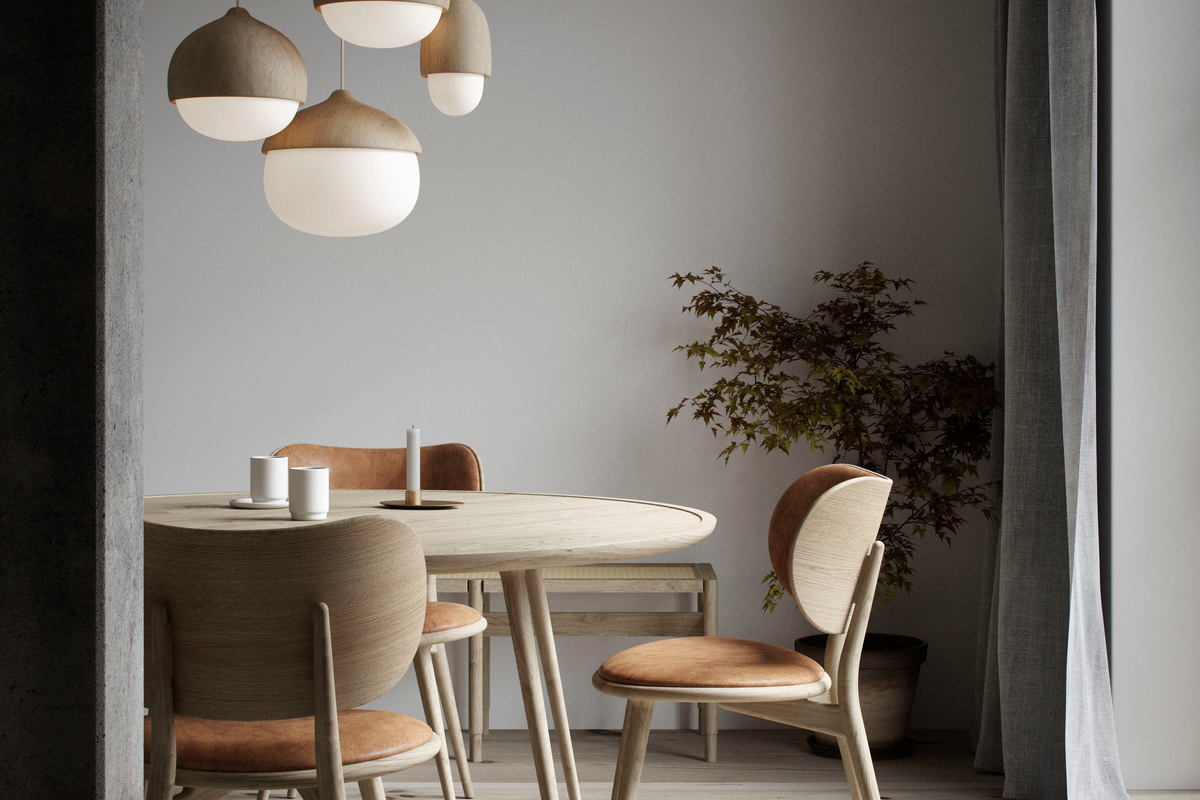 Having dominated regional design for more than 50 years in northern Europe, Scandinavian design has seen a boom in worldwide popularity over the past decade, thanks in large part to terms like hygge and Scandi entering the interior design lexicon. With clean lines, functional design and emphasis on all things cozy, this design style stands out as one that is universally appealing.
The Nordic nations of Sweden, Finland, Norway, and especially Denmark are renowned for their modern living room furniture and interiors. Clean-lined and functional, yet taking on evocative shapes drawn from nature, Scandinavian design initially helped bring modernism to the masses by making it more humanistic. The quality and craftsmanship of pieces from the likes of Arne Jacobsen, Alvar Aalto and Verner Panton continue to resonate. In fact, such classic design tenets inform a wide array of new furniture and lighting designs.
What is Scandinavian Design?
If there was a starting point for Scandinavian design as it recognized today, it was in the 1950s after World War II, when social democracy was at its height in the Nordic countries of Denmark, Iceland, Norway, Finland and Sweden.
The Beginnings
In the early 20th century, the Industrial Revolution and Germany's Bauhaus school inspired European designers to create furnishings free of ornamentation, yielding streamlined, machine-inspired functionalism. Scandinavian designers put their own spin on the style, incorporating elements of their longstanding craftsmanship traditions, particularly light-colored woods.

Finland's Alvar Aalto, celebrated architect and modern furniture designer, helped pioneer the use of bending plywood in the mid-1930s. Many of his bentwood pieces are still in production today, such as the Stool 60, which has been in continuous production for 90 years. 
The 1940s and '50s
During and after World War II, a new generation of Scandinavian designers enjoyed increasing influence and explored modern furniture designs that combined new materials and familiar natural forms. Finnish-born architect and industrial designer Eero Saarinen made his name in the United States while a student at the Cranbrook Academy of Art in Michigan. He co-designed a bent plywood chair with Charles Eames that won the Museum of Modern Art's "Organic Design in Home Furnishings" competition in 1940.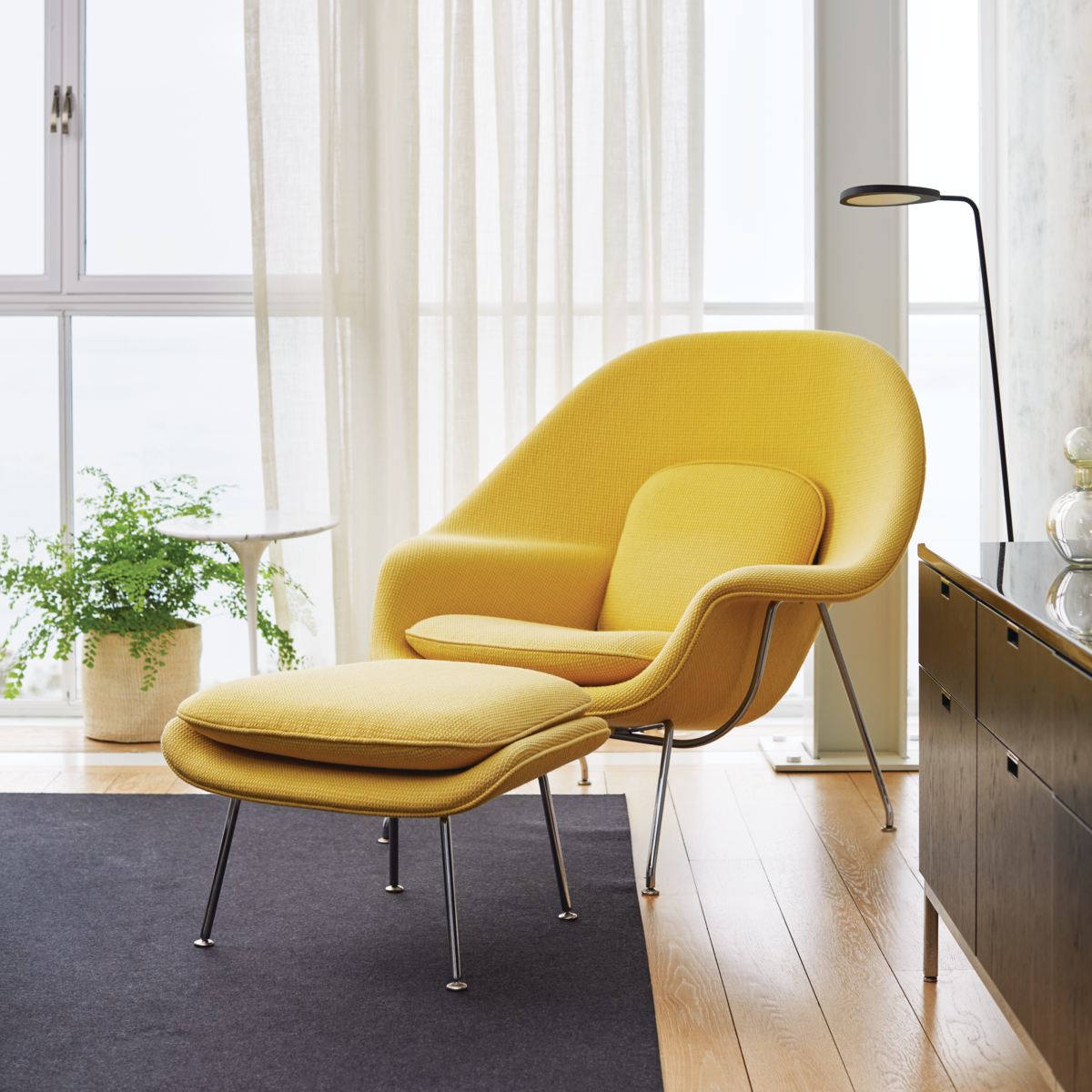 Saarinen would go on to design modern furniture classics like the Womb Chair in 1948 and the Tulip Chair in 1957, as well as architectural landmarks like the St. Louis Arch and the Trans World Airlines terminal at New York's John F. Kennedy International Airport.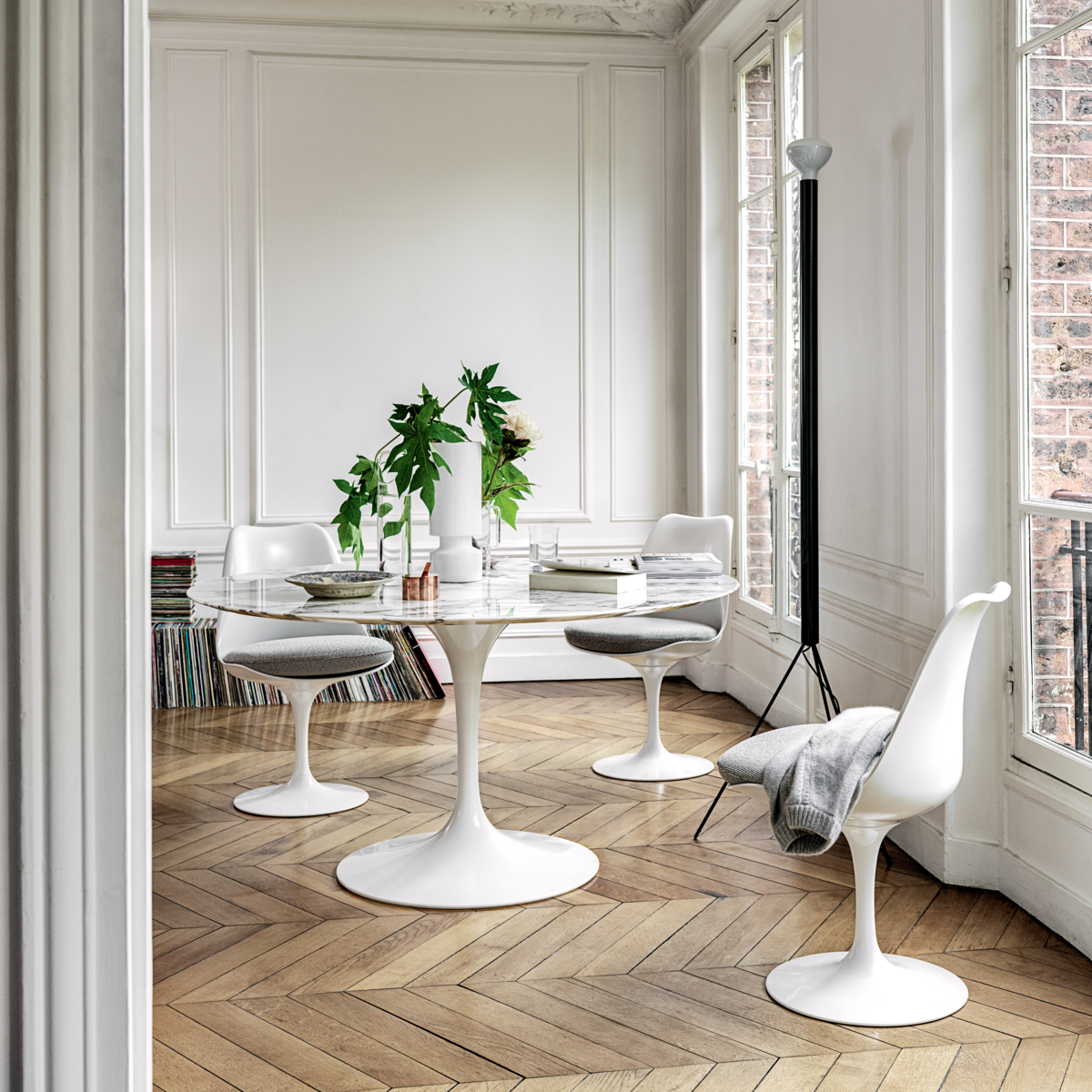 It was also around this time that Denmark took the lead in Scandinavian design. Thanks to the success of numerous Danish designers like Arne Jacobsen and Hans Wegner, the phrase "Danish Modern" became shorthand for Scandinavian design (and middle-class sophistication). Like Aalto, Jacobsen was an architect and furniture designer. He not only created the elegant glass tower SAS Royal Hotel in Copenhagen but also its interior, including the AJ collection lamps.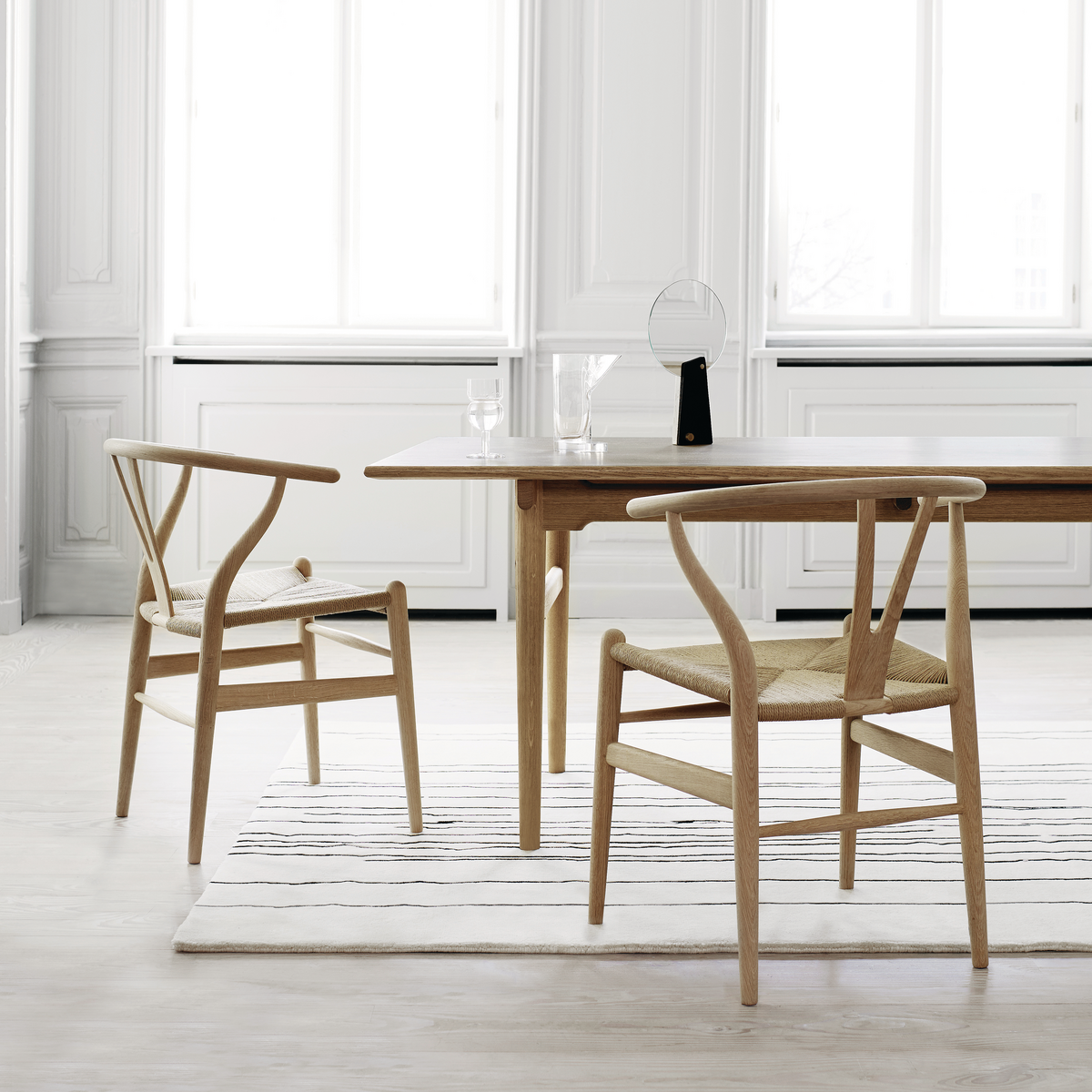 Hans Wegner also became one of the most prolific modern furniture designers. His CH24 Wishbone Chair from 1949, represented his philosophy of "continuous purification," with a Y or wishbone-shaped backrest that includes a curving back rail and brief armrests.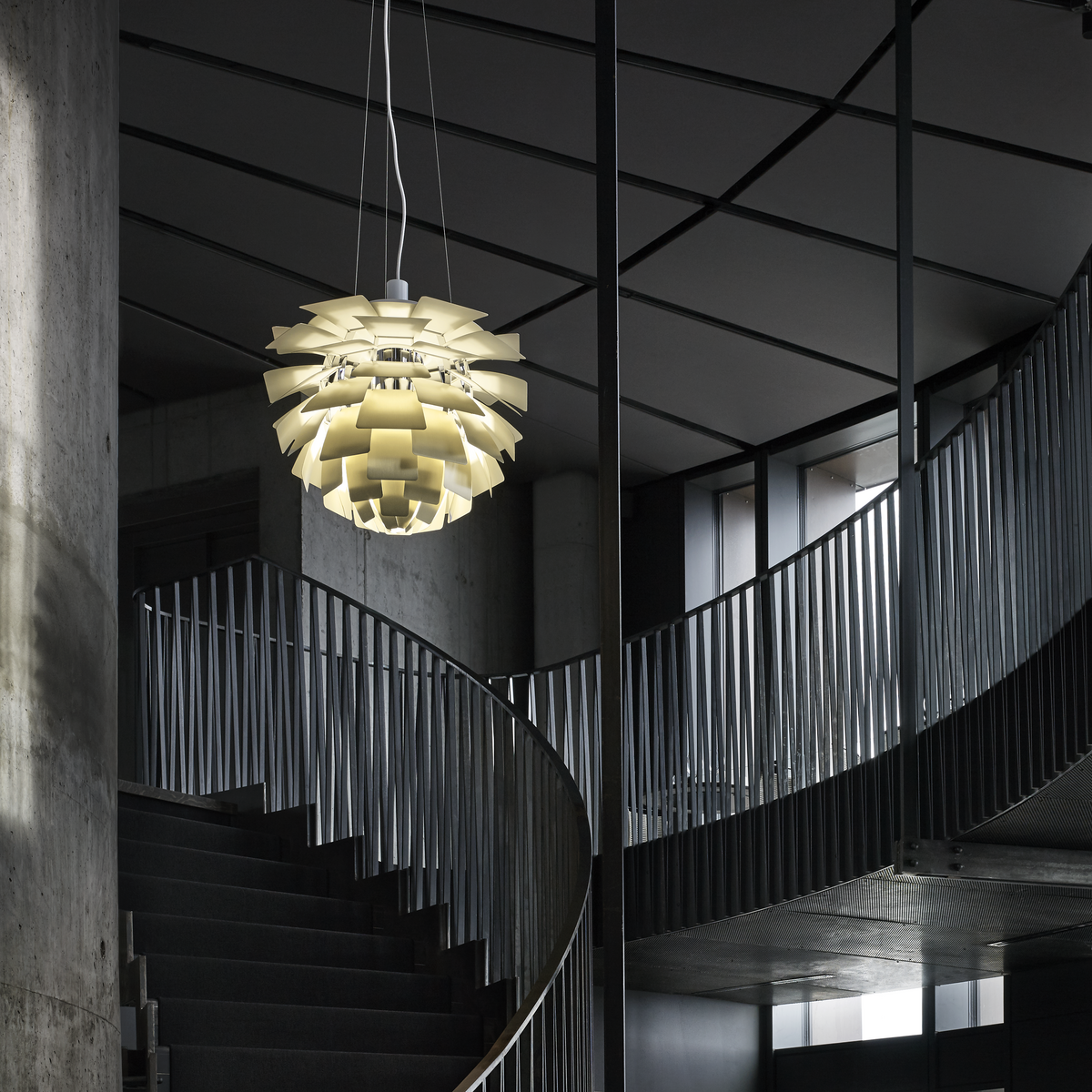 Embracing new technologies and forms, Scandinavian designers like Poul Henningsen and Verner Panton adopted a more futuristic style, favoring extravagant geometric forms and bold colors. Henningsen's PH Artichoke lamp, designed in 1958, may look like that petal-covered vegetable but does so for a practical reason: to distribute overhead light without glare. It has since become one of the most iconic works of modern lighting design.
The 1960s and Today
While he started in the '50s, Verner Panton really hit his stride in the non-conformist 1960s and '70s. His look was all about improbable shapes, vibrant colors and exploring innovative manufacturing processes. His S-shaped Panton Chair was the first chair formed from one piece of molded plastic. It was designed in 1959-60 and went into production with Vitra in 1967.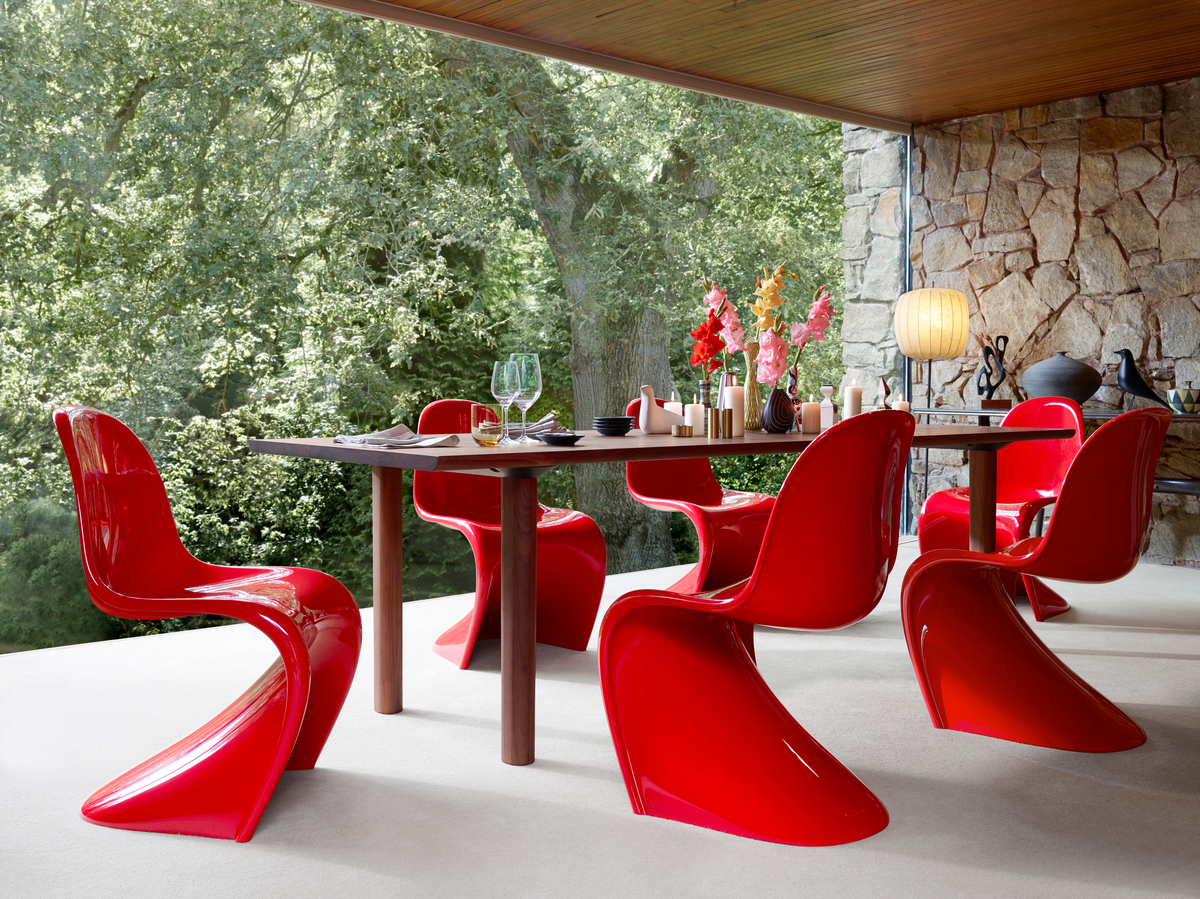 Today, the popularity of Scandinavian furniture has reached every corner of the globe. Many of the classics are still in production as well as new designs inspired by them from brands like Vitra, Artek and Knoll. Scandinavian style has spread to home accessories as well, including decorative glass and streamlined kitchenware from brands like iittala and Audo Copenhagen.
It's simple to see how, over the years, the appeal of Scandinavian design endures: warm modernism with a natural, human feel.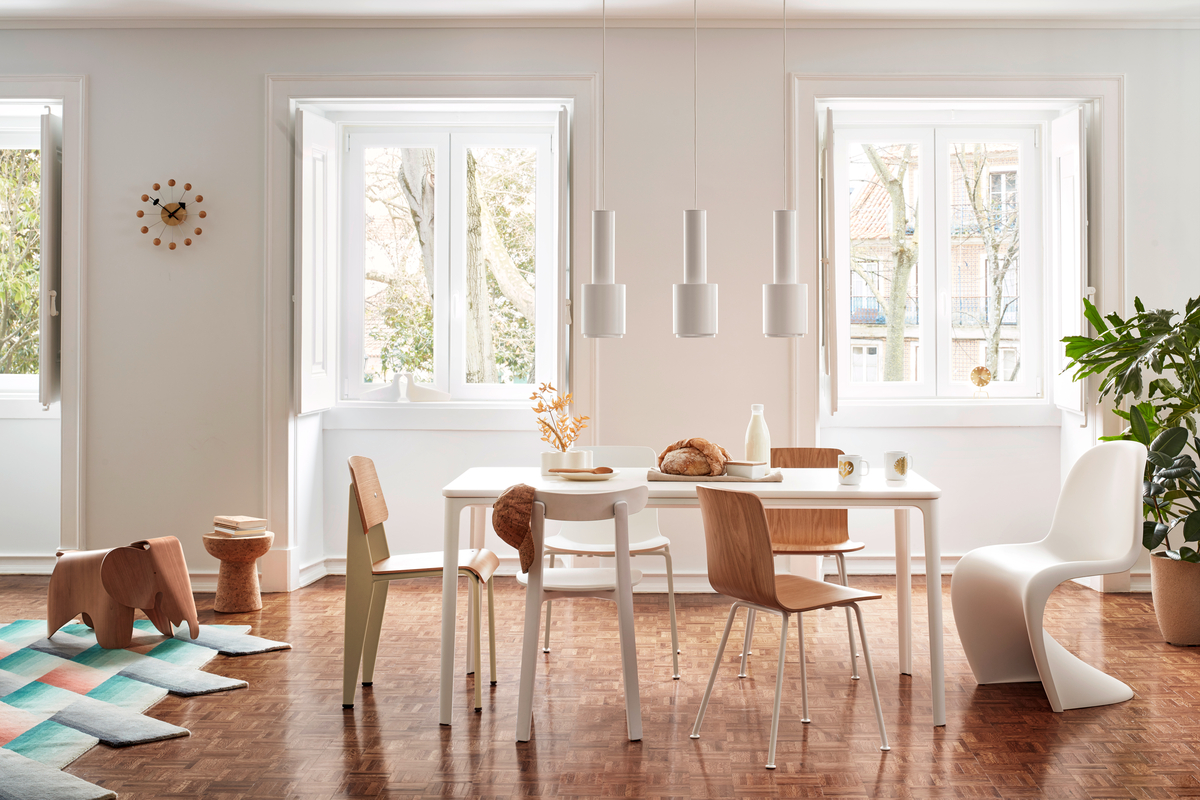 In response to expensive, unapproachable pieces, the new design style was based on the thought that functional, simple, modern and beautiful everyday objects should be affordable for all—not for just the well-to-do. Scandinavian designers embraced this mindset but added an additional component: Creating furniture that was accessible, affordable and flexible would allow people to purchase fewer, better-quality pieces. This set of ideals was termed "Functionalism," and it resulted in the creation of many furniture pieces that are considered classics today. Emerging at the same time as Modernism, it is easy to see the parallels between the two: both embrace clean lines, sleek frames and harmonious balance.
There are some differences between the two: Scandinavian design plays to pale, neutral colors and wood tones, whereas Modernism favors darker woods like walnut and colors like mossy greens and burnt oranges. The two aesthetics certainly play well together, however, and can easily merge in a modernist space.
Scandinavian Design Yesterday, Today and Tomorrow
Today, Scandinavian design is mainly about demonstrating life balance and individuality, minimalism, and ergonomic function—translating to a simple way of living.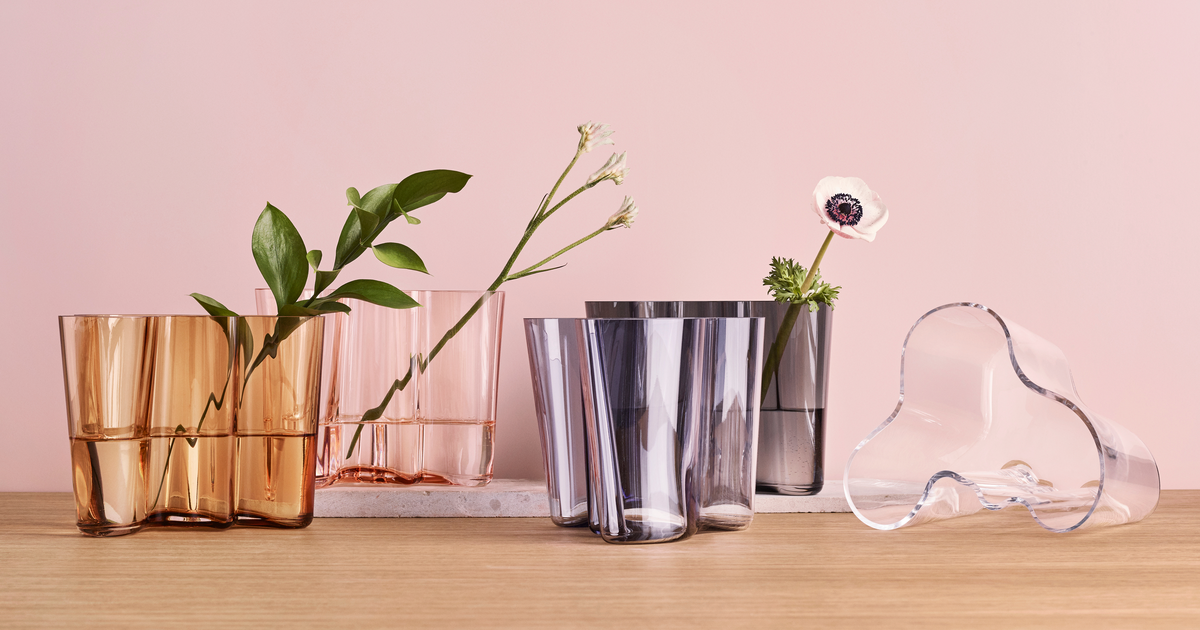 Many classic pieces of Scandinavian design are still beloved in contemporary design circles. Designs by the Nordic greats are as coveted today as they were when they were first conceived, like pioneering Finnish designer Alvar Aalto's Aalto Vase, which looks relevant and fresh despite being nearly a century ago.
While classic Scandinavian design remains relevant in modern interiors, new and innovative designers are leading the way in creating new pieces that reflect the past and future of Scandinavian style. Brands like Muuto, whose soft, playful designs have received global recognition, are giving the world access to Scandinavian design. Other brands of note include Audo Copenhagen, a quirky brand that produces everything from lighting to laundry bags, and Cane-Line, whose distinctive outdoor furniture pieces are as streamlined as they are comfortable.
Scandinavian Integrates Well with Other Design Styles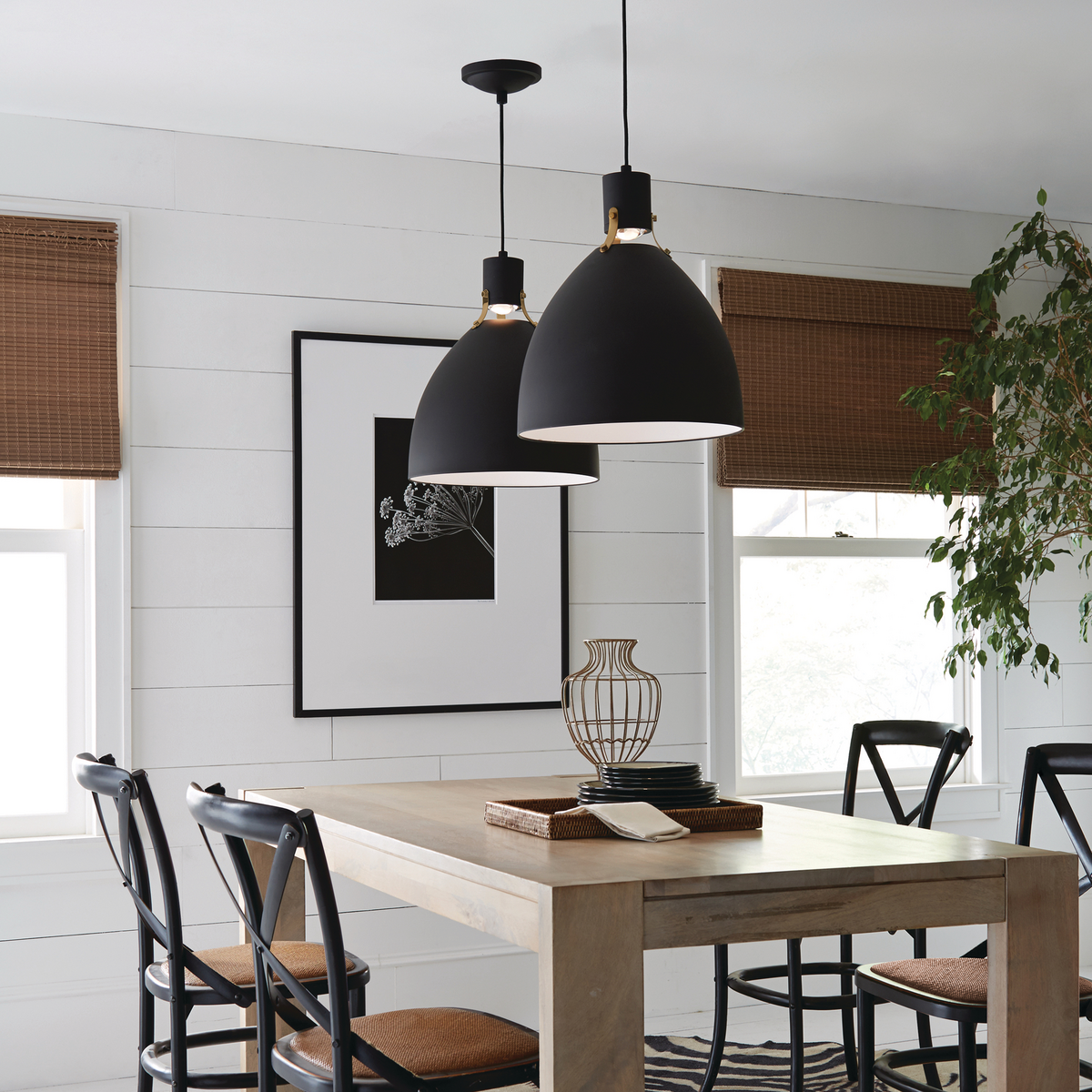 Scandinavian design has such simple features, it's easy to mix it with other interior design styles, including modern, farmhouse, industrial, country and transitional.
How to get started integrating Scandinavian design:
Lose the Clutter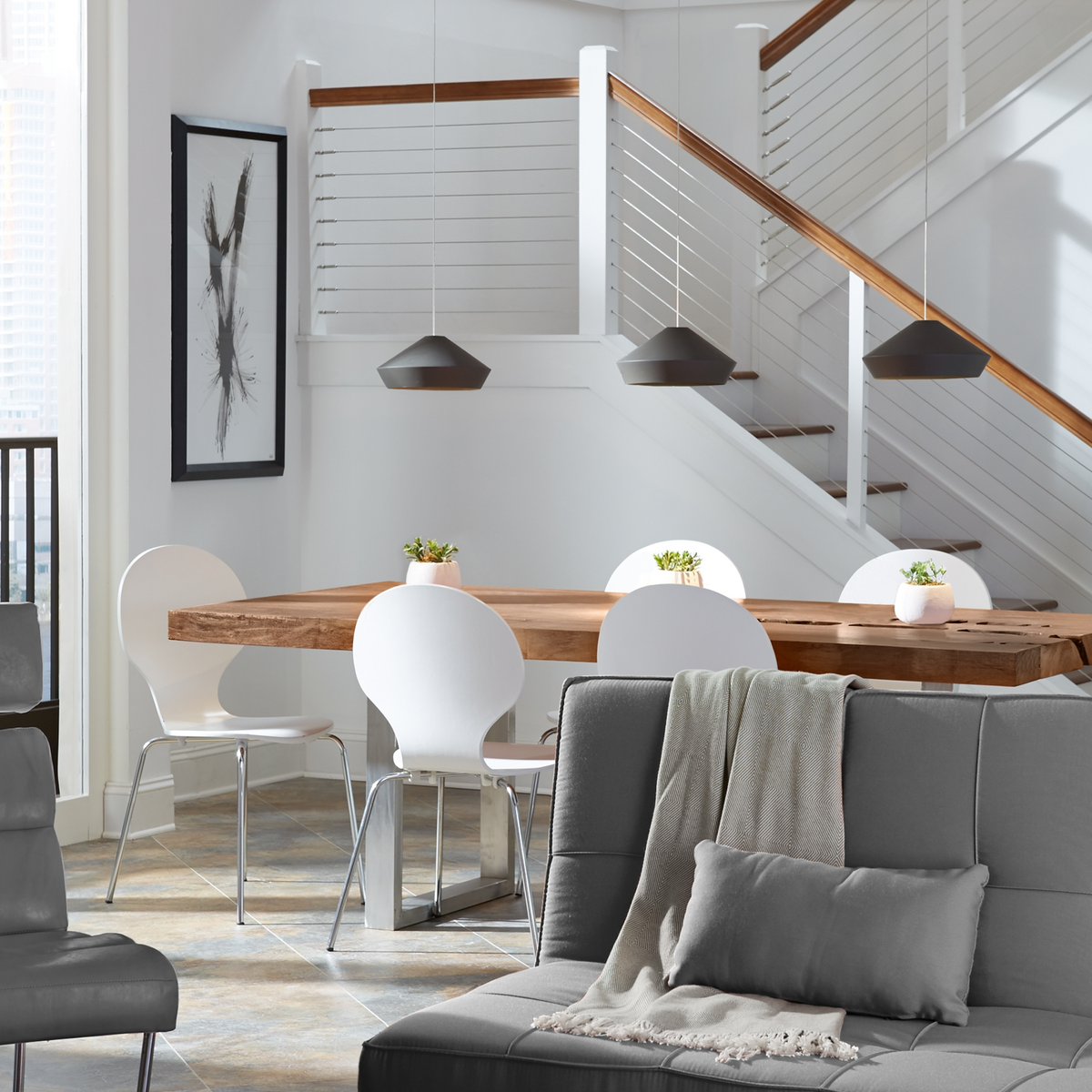 Scandinavian design should have a clean look. When decorating with accessories, keep them at a minimum—better yet, make sure they serve a dual purpose—and think about large mirrors to reflect and enhance light as much as possible.
The Art of Hygge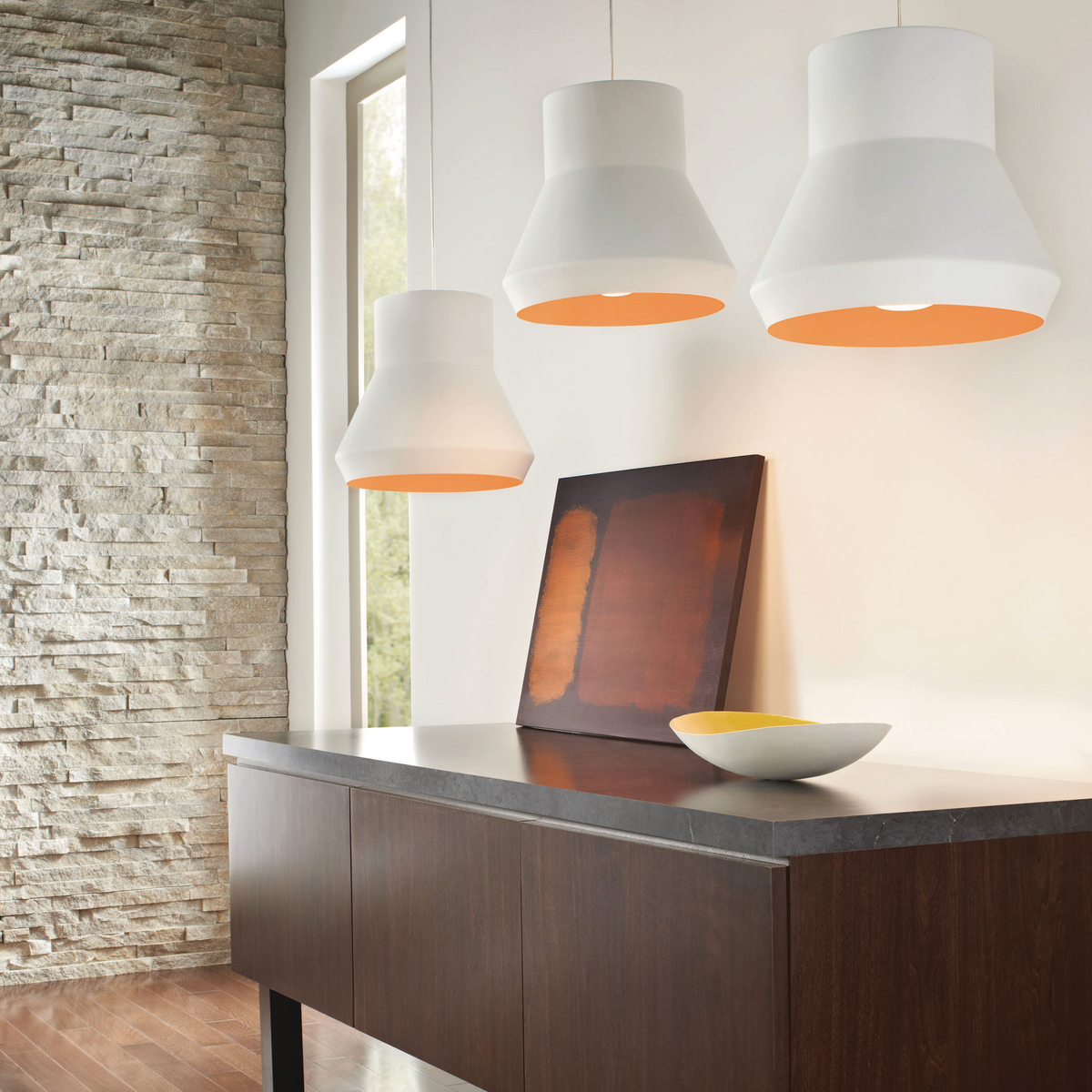 Hygge is a Danish term that's become a design buzzword in the last several years. Similar in its purpose to the overall aesthetic of Scandinavian design, it refers to creating a feeling of contentment and coziness. As our world gets busier and more hectic, hygge should generate a relaxed atmosphere—an "I love living here" vibe that calms stress levels.
Slightly different than pure Scandinavian design, the hygge style is furthered by textures such as plush knit cushions and cashmere throws, wood finishes like natural oak or warm walnut and lighting that can be dimmed.
A Scandinavian Checklist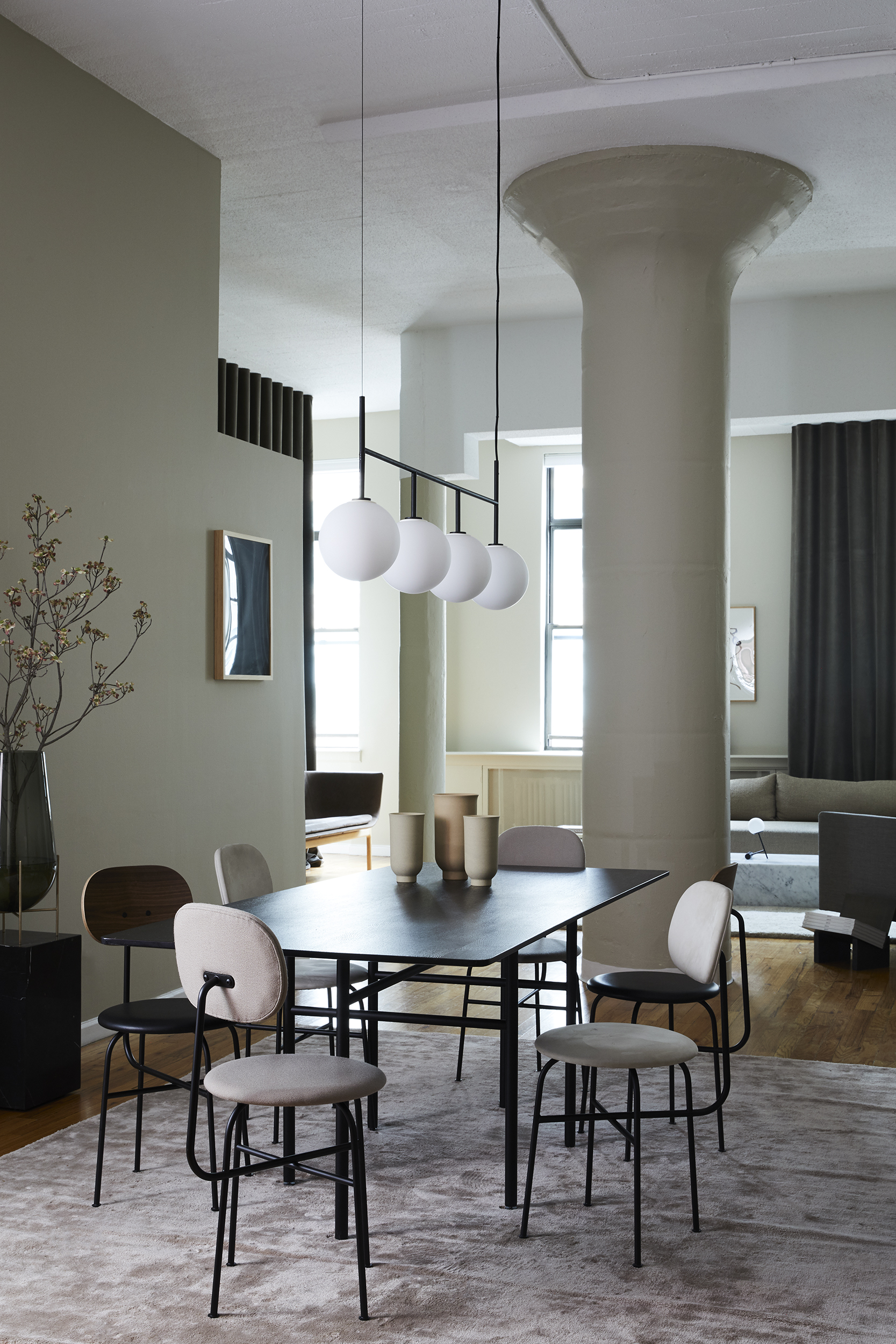 Follow these rules for a happy, hyggeligt home:
Paint the walls pale. White and light tones brighten up interiors to make for open, airy rooms.
Lighten up the wood. Find wood flooring and furniture pieces in bleached tones to complement lightened walls.
Flood the space with lovely light. Layer multiple light sources for cozy, welcoming warmth.
Invest in quality pieces. The multifunctional nature of Scandinavian furniture favors having fewer, higher quality pieces, which leaves more space open for light and air.
Maintain minimalism. Uncluttered surfaces and a less-is-more philosophy are hallmarks of Scandinavian spaces. Storage solutions like cabinets and cupboards are an effortless way to keep spaces clear and clean.
Embrace coziness and candles. The two easiest items to include in the home for optimal hygge are candles and blankets. Try lighting a few tealights in the evening and see the difference additional lighting makes.