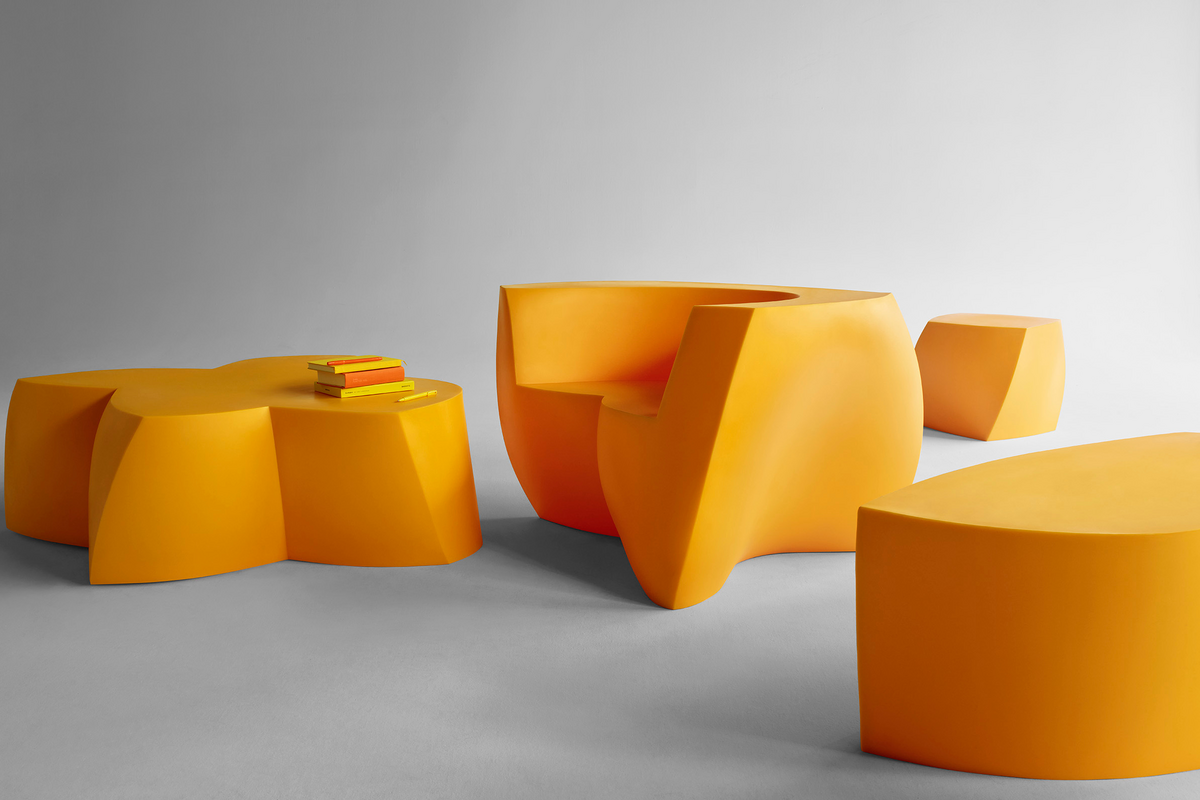 Alan Heller had a knack for connecting with the right people at the right time. Looking to launch his eponymous brand in 1971, Heller got in touch with the legendary design duo Massimo and Lella Vignelli, whose brilliant collection of stacking cups and plates had just fallen out of production when their Italian manufacturer closed up shop. Alan convinced them to move production to his U.S. shop and reintroduced their Compasso d'Oro-winning designs as Hellerware (winning, in turn, the hearts and minds of modern design enthusiasts, right off the bat). Heller continued forging iconic partnerships with designers like Mario Bellini, Studio 65 and Frank Gehry—clearly at a time when the starchitect was primed to design some ultra-modern twisty cubes and benches.
As his health began to decline, Heller once again connected with the right person to steward his company into the next half-century: John Edelman. The two first met over a decade ago under less-than-ideal circumstances: Edelman had just taken over as CEO of Design Within Reach, and Heller was suing the retailer for copying his Bellini chair. But instead of letting legalities sour the budding relationship, Edelman made things right and, later in life, the two reconnected over monthly lunches where Heller was playfully coy with Edelman over the ultimate disposition of the company.
Yet, as fate would have it, Edelman is now owner and CEO of Heller, pumping new life into the brand by honoring its founder's legacy while also ushering in new sustainable initiatives and a design-industry first: issuing NFTs.
We caught up with Edelman as he was readying a few new top-secret releases at Heller HQ in Connecticut (due to be revealed in May 2023 during New York Design Week at the Heller Gallery) to learn more about Heller's sustainability initiatives for the planet and culture.
Please bring us up to speed with a brief history of Heller and how you became CEO of the brand.
Heller was founded in 1972 by an interesting guy named Alan Heller, who was a total and complete character, and he loved design. At first, he was making plastic Tupperware-type things—very simple and charming—like, "Gladys the Goose" was a goose-shaped water pitcher and things like that. Nothing with great design—then he decided to change that, and he got a meeting with Massimo and Leila Vigneilli—and the Vignellis are the most-seen graphic designers in the history of graphic design. Think about American Airlines, Ford, Ducati, Bloomingdale's, Macy's, Knoll and then Heller when they met; he designed the Heller logos. We're the last Vignelli-designed logo in the design industry, which is kind of cool. They had recently won the Compasso D'Oro award in Italy for their plates and saucers, for what became Hellerware. But the company that originally worked with them went out of business and Alan said, "Listen, trust me, I'd like to work with you." And he took over those designs and launched it in the States, and Heller was born and then it evolved. He began working with different designers. But it was really that relationship with the Vignellis that started the real heart of Heller. And then I found it.
Yes, as the story goes, you first met Alan because he was suing you. That must have been a great first impression?
In 2010, when I took over as CEO of Design Within Reach, the first article in the New York Times announcing John Edelman, CEO, I thought would be this amazing article and instead, the title was "Is There a Solution Within Reach?" with a huge picture of Alan Heller holding a chair above his head looking at the bottom, showing that our company had knocked him off and he was suing not only the company, but he was suing the buyers directly. It was a nightmare. They hated him and he hated us.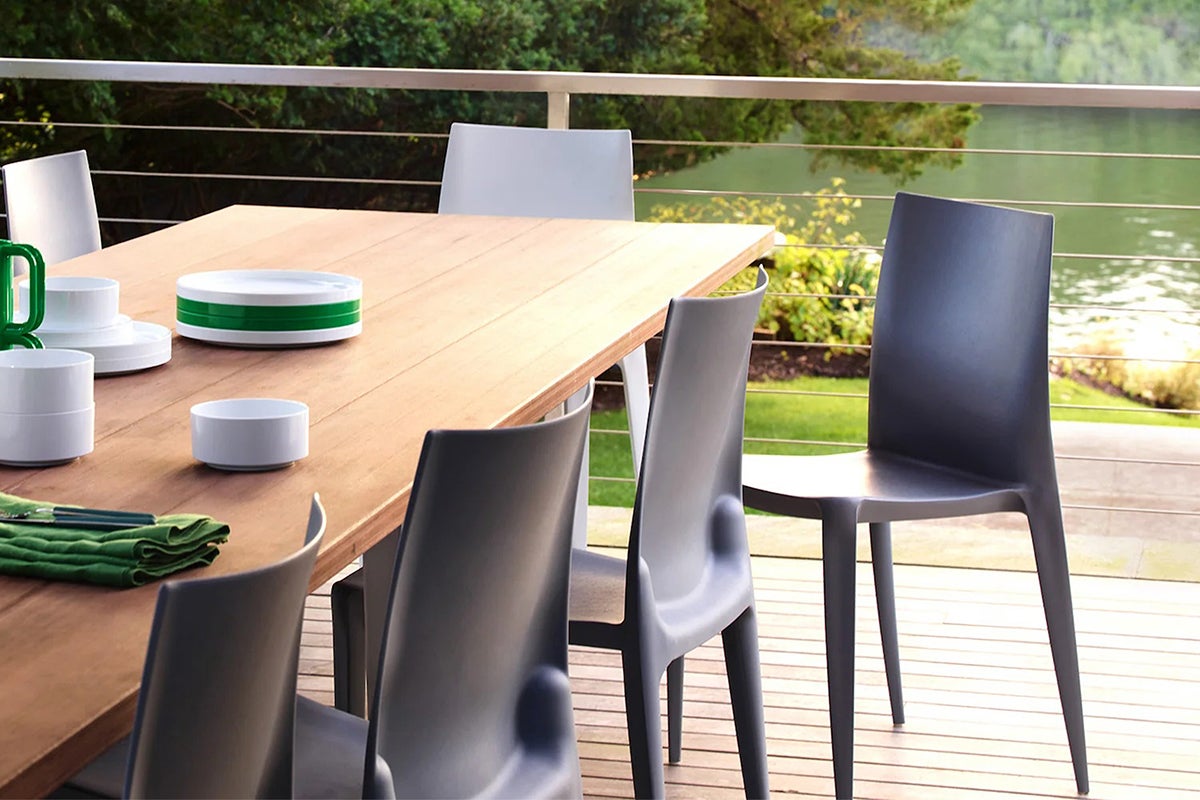 And I went to go see him a month [later] in New York. And I just said, "Alan, I'm sorry, I didn't do that. I believe in authenticity. I hate knocking things off." And to make matters worse, when they knocked off the chair, they called it the Alonzo, just clearly using a version of his name, which was even worse.
So, I apologized. I said, "We'll flush all the chairs out through the outlet and I'll build you a business." And we did. And then after I sold DWR I wanted to reach out, you know, after all those years.
And you reconnected?
I started having lunch with Alan once a month and I said, "Alan, I'm, I'm dying to buy your company." You know, he was much older by that time. He had no employees. He's all by himself, no salespeople, no marketing. He didn't call people back. But he loved to go to lunch. And he said, you know John, you'll have to deal with my widow. He teased me; he'd say, "I'm not going to sell it to you." And I didn't know at the time that he was ill and, during COVID, he ended up passing away, unfortunately. But he was a friend, and he had set it up so that I'd buy the company from his widow. That's what happened.
But, you know, he didn't have anything to sell necessarily. So we had to get the rights from every designer to produce them again. So all we really bought was the brand. We had to recreate everything else. No paperwork, no client lists, no employees, Basically didn't know where all the molds were. I'm the only idiot, I think, with my business partner, John McPhee, that would have had the courage to buy that business. It certainly wasn't out of intelligence, but it worked out.
So what inspired you to, essentially, save this company from an uncertain future?
The brand totally could have gone away. And it shouldn't, right? It deserves to live on. Alan had so much passion for design and for the designers and I've always lived my life telling the designers' stories. It's not just a chair. It's a chair designed by Mario Bellini, one of the world's great chair designers…you tell the whole background, and that's what I wanted to do.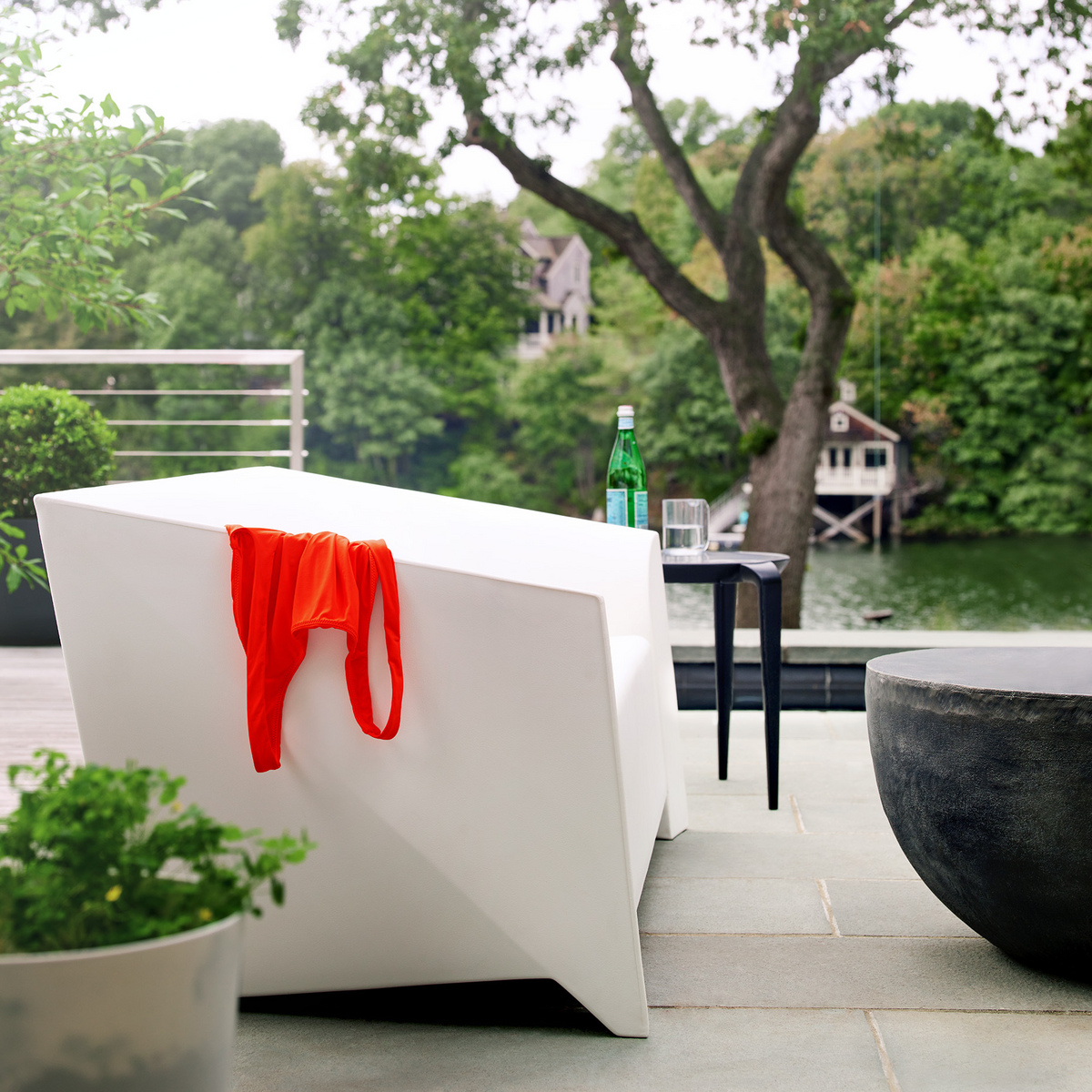 It's very hard to create a modern product—aesthetically pleasing design for a purpose. No ego in the design and it can go anywhere, including indoors, outdoors; like modern can go in a barn, in a warehouse, in a penthouse, in a restaurant, in an office, in a hotel. They go anywhere and it can mix with anything. So we had this little collection of products that were really modern, and the beautiful thing about it is all the work is up-front.
All the work is in designing a product. Once the design is done and you have a mold, you can reproduce it. That's what Alan loved. He loved the industrial nature of injection and rotationally molded product. There's no like, if the stitcher's sick, there's no stitchers. There's no delay in the material. There's no other materials. So you have to work super hard to make something flawless. And, that's what excited me too, the idea that we can produce the products anywhere in the world.
So as we grow, we can take a mold, replicate the mold, make the designs in Brazil, or in Europe, and reduce carbon footprint. I love the flexibility of that. I love the industrial nature of the production. I mean, that was so interesting to me and seeing these massive facilities; you know, when you go to one of these places, you realize that they're running 500 types of businesses out of this one facility because the machines don't care. One day they're making highway barriers, the big yellow highway barriers, then they make our chairs or a Gehry cube. And that was just thrilling. I had to be a part of that.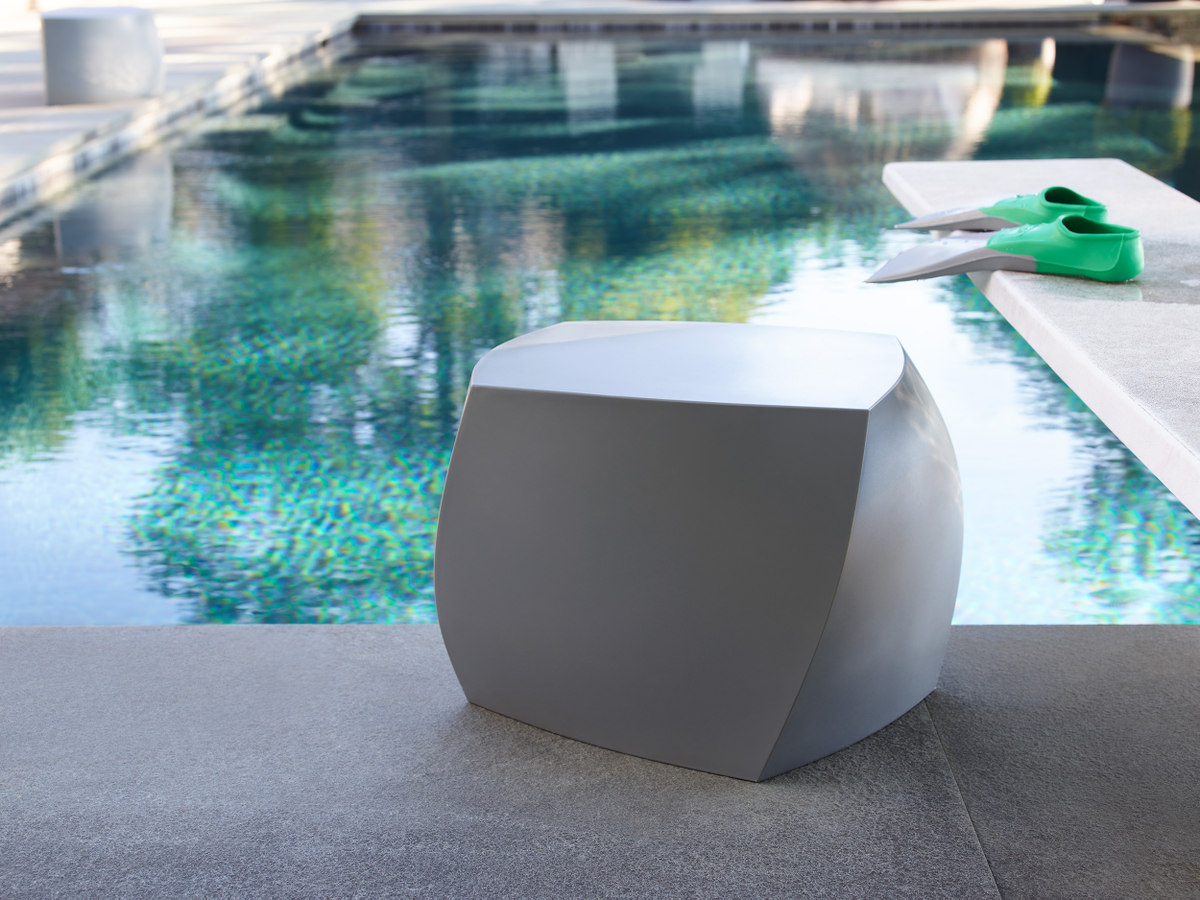 We like to think that good design is inherently sustainable, so how does Heller approach sustainability? Is it something that can be baked into the process of developing designs and manufacturing and how so?
Yes, totally. So a lot of these designs were made in the '70s through the 2000s, and because of the nature of our product, we were always inherently sustainable just from the manufacturing process. You can grind our product back up and make new product, so everything is 100% recyclable, that's one aspect. And with our new chair the Vignelli Rocker, we actually offer an NFT that comes with the chair that gives you lifelong recycling instructions, as well as the second prong of sustainability which is longevity; the NFT gives you lifelong verification of authenticity.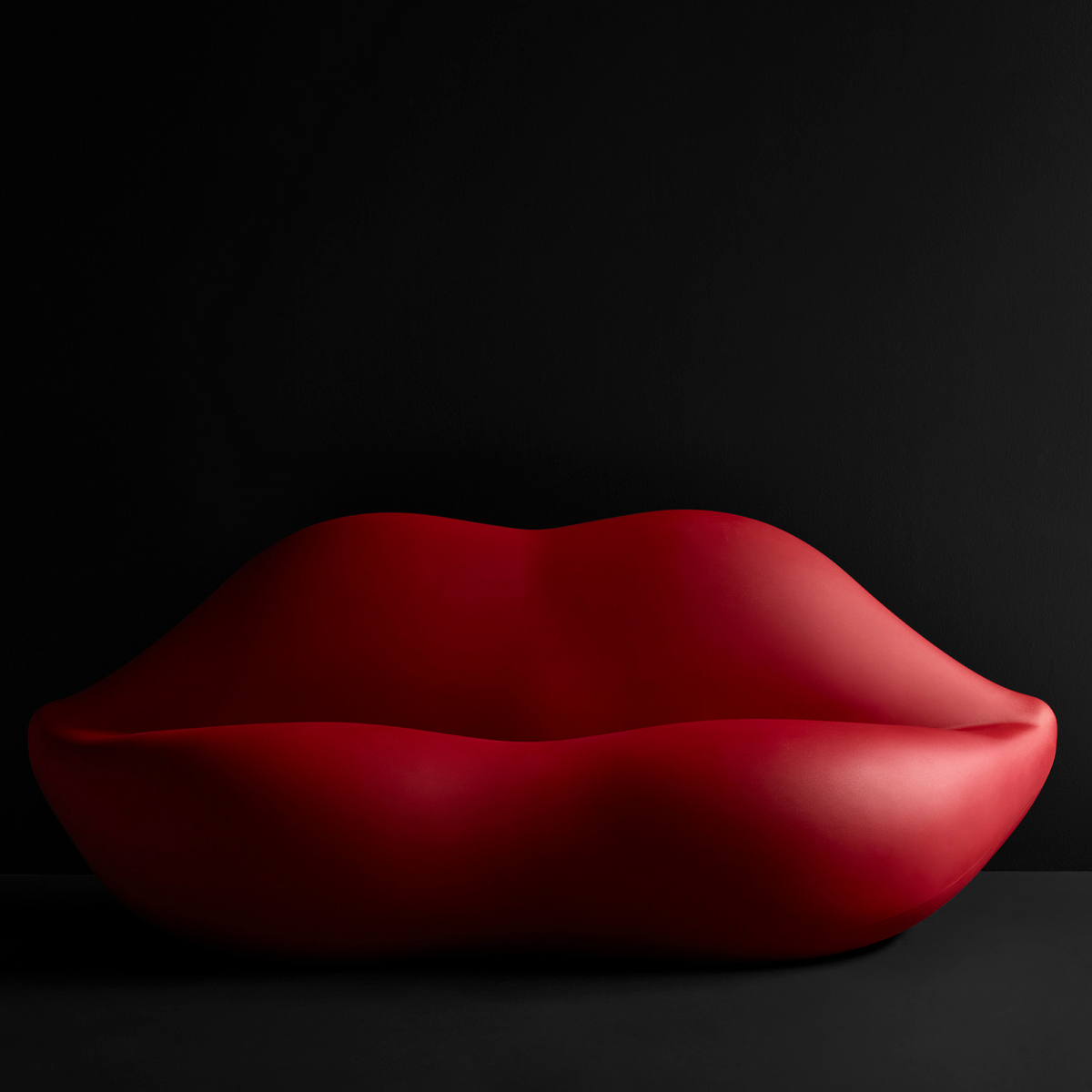 And our products really don't wear out, almost nothing wears out, and people trade them. They trade them over 20, 30, 40 years. I mean, I love shopping on eBay for our old plates and for our chairs, to see the Bocca Sofa. And like I always say, we're caretakers of these products, not necessarily owners, because they're going to go to somebody else.
I love that. Something to understand about brand and design and value is it should last forever, if possible, especially modern design. Contemporary design is very temporary—that's the landfill aspect—but we're modern design, so it should last forever.
And all your products are recyclable?
They're all 100% recyclable. And in our new launches, we're using a pretty high level of PCR, which is post-consumer recyclable waste, in the products. The number-one thing that's important to me is that it's always recyclable again. So a lot of companies are using recycled products and you can't recycle it again. And that's to me a big no-no. So, not only are we using PCR, but it's going to be recyclable again.
And that's a big step forward. So since we're creating our own product, there's no reason not to have that involved from the very start.
Tell us about you know your take-back program and how it fits into the circular economy. How does it work?
Yes, we'll credit you for anything you send back to us—we'll credit shipping towards new product and we'll grind it up. We literally have this massive machine that grinds your old piece into a powder and makes it into new product. It's super cool. But, I can tell you all honestly no one's done it yet, because everybody keeps the product. But when we're making products, anything that is a mistake, anything that didn't come out right, they get ground back up and used again. So we are always recycling, and the take-back program is just an extra guarantee. You can't take back an upholstered sofa and grind it into a new sofa. There's so many different elements, we have the versatility to do that.
What about the NFTs you are issuing? They work with the recycling program as well as serve as a certification of authenticity, and this is an industry first. Can you tell us more about the genesis of the initiative and what you hope to achieve with it?
I started working with this company called Digby and the initial concept, I was consulting for them, and we're trying to think of, you know, "What's in the Metaverse and how do we get furniture in the Metaverse?" I did all these talks and podcasts, and I was explaining how once you start, you know, wearing technology is the first step to VR and that we're already basically in the metaverse because we're zooming. And it was all fine and dandy, but it was over everybody's head.
So then I started to think about how could we take NFT "nonfungible tokens" and make it into something people can actually understand and use today. We're all going to go to the Metaverse at some point. By the time we get there, we'll be passing in and out without realizing it, that it's actually part of life. But we're not there yet. So I had the idea, like, what's forever? And even that picture of Alan, you're looking at the bottom of the chair or my whole life going to flea markets looking for that tag, looking for something that proved authenticity. I was like, wow, the NFT is forever. That could be attached to a piece of furniture. And what a great add-on to a purchase.
Let's be the first brand to try that. So with the chair you scan a code and you receive your NFT and you have a stamp of authenticity forever. I am very proud of it. I think it's an industry first as you said and it's actually highly, highly functional.
Last question: Do you have a favorite Heller design? I know that's tough to choose one. Maybe there's something you're into now, or working on now?
Well, for the moment—and I love Gehry, I love Bellini, I love everything we're doing—but the Vignelli aesthetic to me is so perfect. The benches with every dimension being 6 inches of thickness and the way they look good as a stool or as a 72-inch bench. The way Vignelli's designed the mugs and plates, there's something, and you know the rocking chair. That was his dream.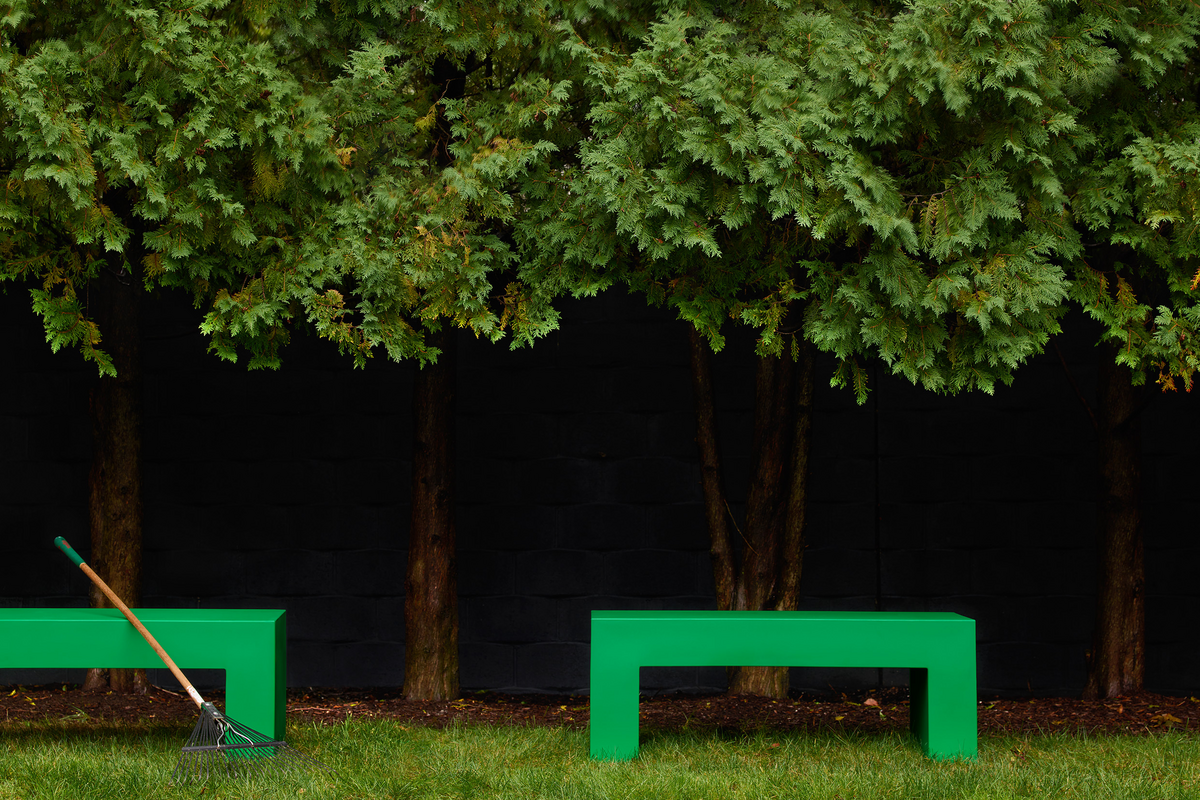 Like Raymond Lowey designed Studebakers, and he eventually designed the Studebaker Lark: If you look at his sketches over like 20 years, he was always designing the Lark. If you look at Vignelli's sketches over the years, he was always evolving to this chair. Something about that, like that, was his passion. You know, it's in the permanent collection of the Vignelli Center. It's all over the world.
Heller's been an amazing company and hasn't launched a brand-new product until we bought it in the past year. We've launched a few from the archives, but what's next, right? So May 20 in New York, we're launching new product. During Design Week, we're launching two new chairs in New York at the Heller Gallery on 10th Ave. I couldn't launch new product in a convention center, so I took over a gallery to put it in the proper environment, to respect the design—because it's all about the design.
So, I can't show it to you yet, which is killing me because I'm not the best secret keeper. But we're almost there. We are also relaunching some archival designs. I think people are going to love it all.
---
John Edelman will join a panel of prominent names in design on June 14 during the Sustainability in Design Summit. Save your spot to hear more about his NFT program and how his ideas and company are advancing design for culture.