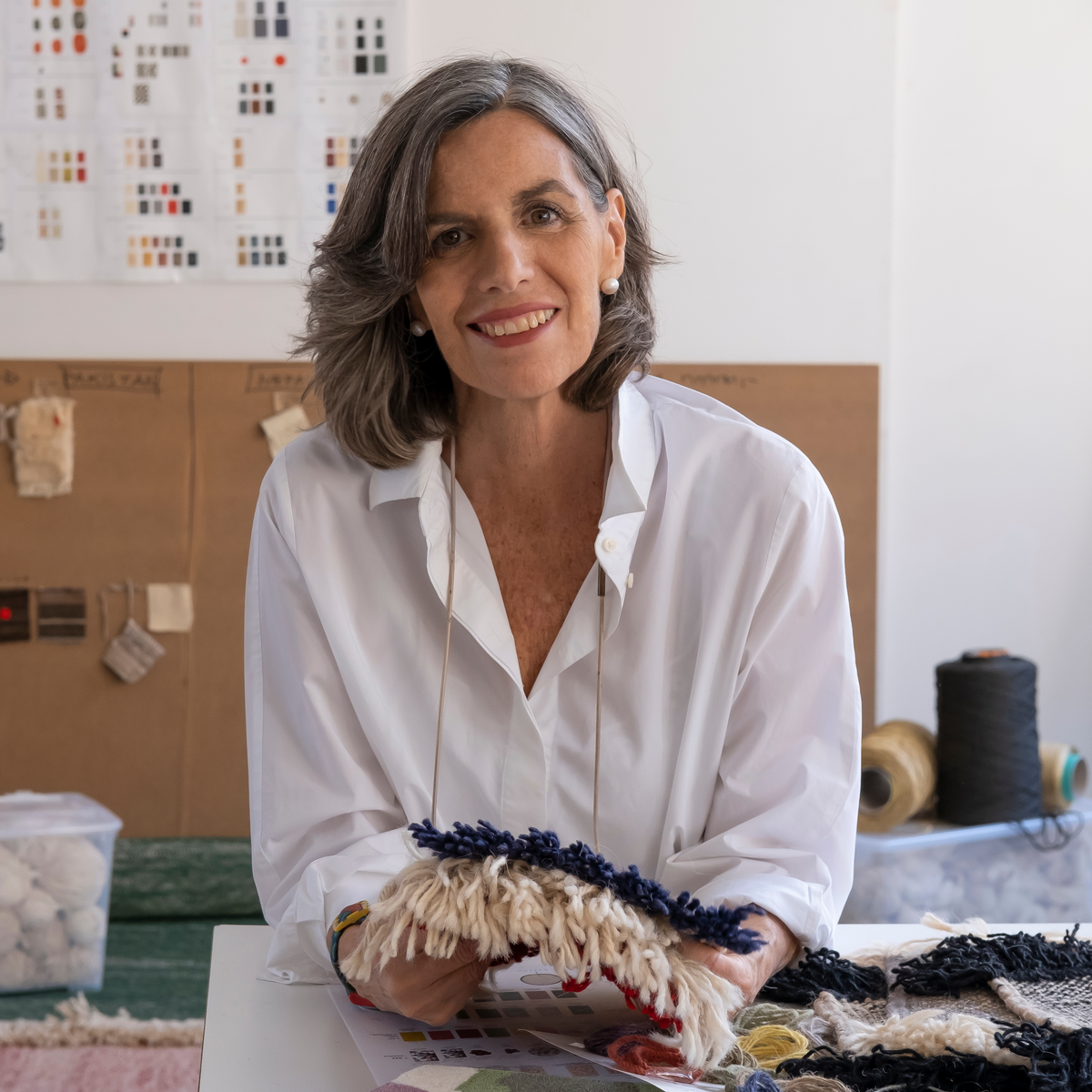 For more than three decades, Nanimarquina has built a distinctive collection of high-quality rugs that fit a wide range of styles and spaces. In the process, the company and the woman who founded it have become synonymous with design innovation, reinvention and social responsibility.
Nani Marquina was influenced by a lifetime surrounded by creativity—and her desire to make her own creative impact on the world—when she established her eponymous company in 1987. We recently caught up with the founder-designer to find out more about the brand and what keeps her creating.
Why rugs?
Designing carpets wasn't a decision that was made overnight. I started out by designing prints for interior décor after studying product design. When I started in the '80s, I realized that there were no rugs in accordance with the new aesthetics of design. I invested special attention and effort in finding the right raw materials and manufacturing processes from the very beginning; factors that enrich the aesthetics of the designs (and the main reason for the brand's commercial success).
What most inspires you in your designs?
Craftsmanship is my main source of inspiration. All its aspects fascinate me: basketry, ceramics, textiles. I believe that my passion for art and admiration of nature define the essence of my work. Most of the time, my inspiration comes from my travels around the world. Usually, the ideas just emerge without warning. I'm someone who always has the eyes wide open and any little detail I see during the day can inspire a new design.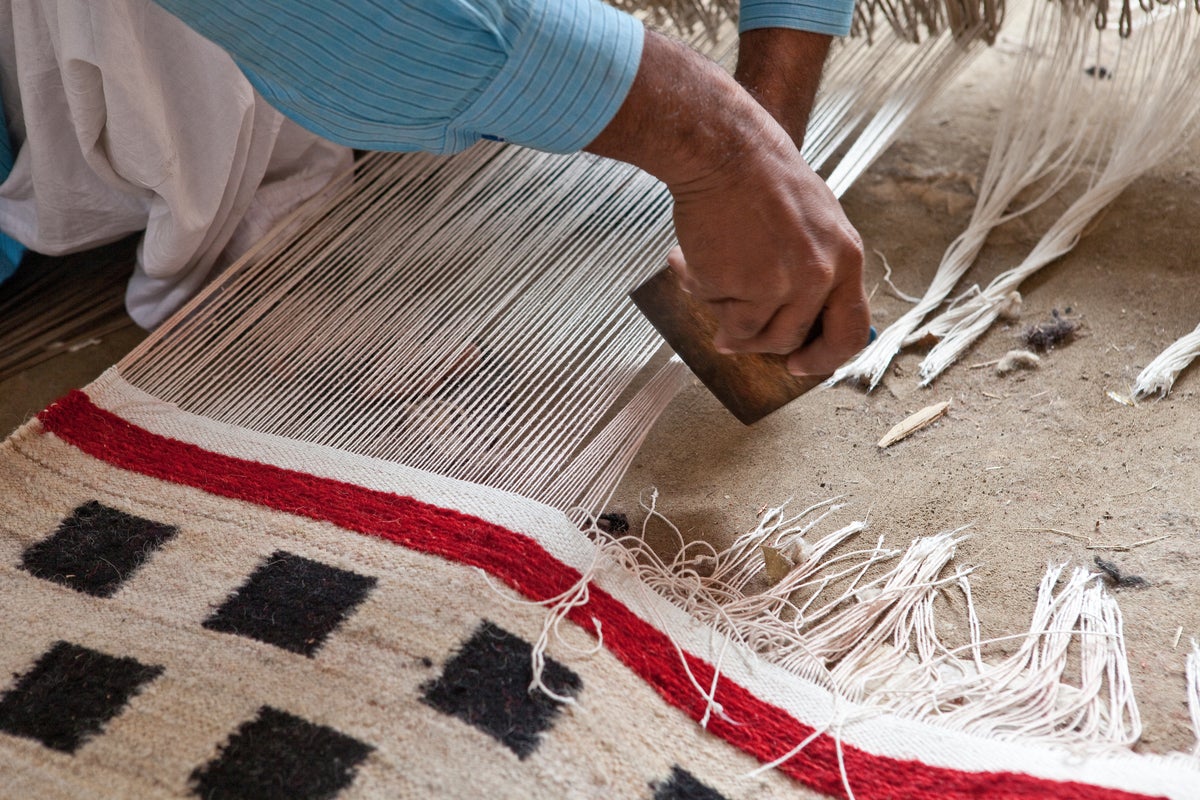 How do you define craftsmanship?
I understand craftsmanship as an art form whose foundations rest on the traditions of a community. The aim, aside from the purely functional, is to transmit stories, knowledge, culture, heritage, symbols…. This is the identity of a community, village, or country—the intrinsic essence.
As a company, Nanimarquina is very socially conscious. What's the how and why behind that ethos?
I consider that from my first trip to underdeveloped countries, the experience and situations sensitized me, and I felt the need to get involved in some way. In the '90s, we decided to relocate all our production and set up there; it was the perfect moment. This allows us to fulfill our wish to boost local economies in these countries and offer new opportunities and improved living standards for local people.
"Most of the times, my inspiration comes from my travels around the world. Usually, the ideas just emerge without warning."
In addition, caring for the environment goes hand in hand, and more so in countries such as India where this concern is not very prevalent. We strive to enhance our work with the use of biodegradable and recycled products, experimenting with different types of textures and fibers. Our traditional production techniques further contribute toward preserving natural resources for the use and enjoyment of future generations.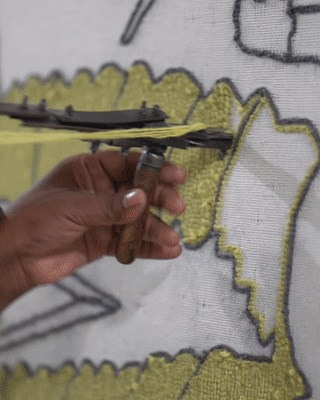 To go a step further into the fight against environmental degradation, Nanimarquina has introduced Eco-wash in the cleansing of our collections: the natural washing product Ecosheen is a biodegradable and free-of-chemicals multienzyme washing product, while powers the bright colors, shine and softness of each fabric.
How do you choose other designers with whom to collaborate?
Initially, I designed all rug models with an internal team but in time, I naturally developed an interest in editing the work of other creators. Collaboration brings freshness, inspiration, experimentation, and guarantees the diversity of styles in our catalogue.
Usually the designers contact us directly with a design, and then we work together, starting a creative process looking for the perfect design and the best way (technique, fiber…) to produce it.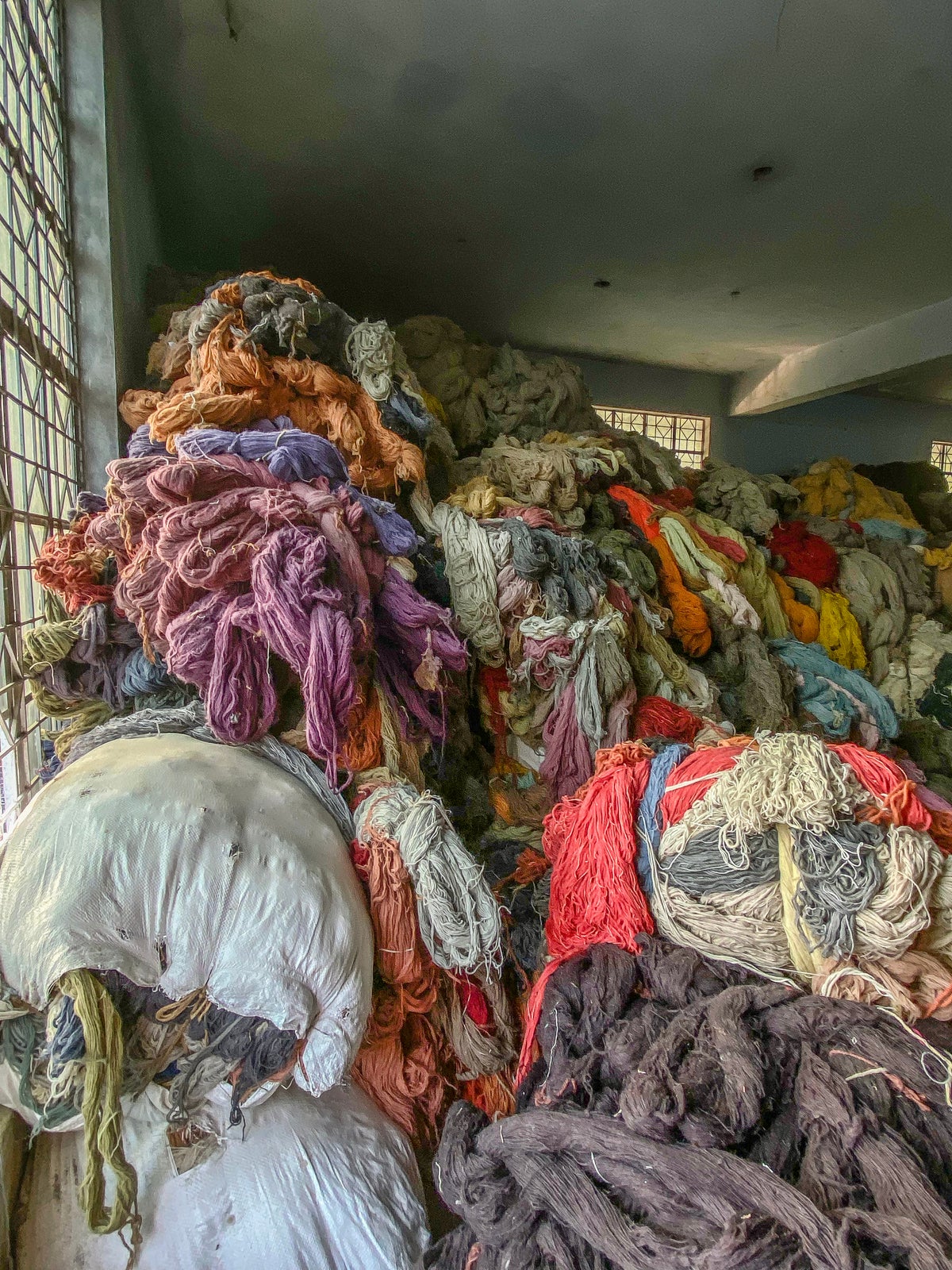 You are known for using some unusual materials in your rug designs. Does a design normally dictate materials, or do materials dictate the design?
It works both ways, depending on the project. Sometimes the material dictates the formal possibilities. This is the case with bicycle tires or jute; the experimentation conditions the technique and thus, the final result.
However, when a designer proposes an idea, they often won't know which fiber to use and then the process reverses: we have to find the material that best reflects the concept. In any case, it should never be obvious. We like to surprise!
"…the challenge is to go further and satisfy needs or create solutions for less evolved communities: what we consider to be social design."
Tell us about your father and his influence on your work.
My father Rafael Marquina played a huge part in where I am today. He was one of the first industrial designers in Spain; he was a pioneer. Every day when he got home with new designs he had created, I was totally captivated, and he passed on to me his great passion—designing.
How does Nanimarquina's appreciation for traditional craftsmanship interweave with a family-run company?
Our admiration for craftsmanship comes from the very early start of the company. When I started designing rugs the only way in Spain was to do mechanical rugs. In 1993 I decided to find another kind of production in India that better fits our contemporary design needs. As a result, we pioneered the introduction of crafts into the world of rug design. In India they were completely unaware of what contemporary design was, they only did classic rugs, and 10 years later that changed drastically. Nowadays it's impossible to find any craftsman making classic rugs. So, both the craft and the rugs have changed absolutely because they're made based on design. I'm proud to have been a pioneer and been involved in promoting this change.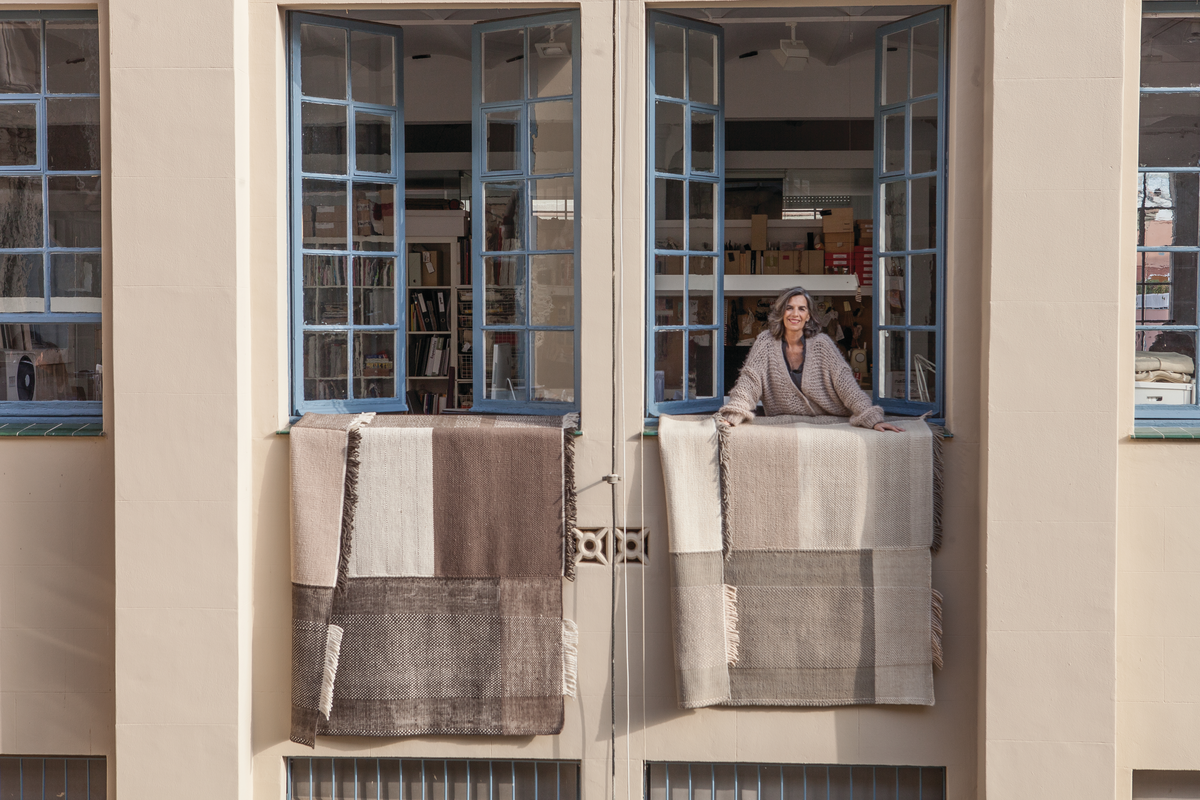 You've come so far in 35 years. What direction do you see Nanimarquina heading?
Contemporary design has evolved to the point that the concept has taken root in industrialized society. For me, the challenge is to go further and satisfy needs or create solutions for less evolved communities: what we consider to be social design.
Can you expand on what you consider to be social design?
We would like to call it responsible design, and it has also been a constant throughout our journey. We visit our suppliers every year and we make sure that working conditions are in line with our standards. With most of our suppliers we have been working with them for a long time, and year after year we have seen the same weavers, working there as a big family.
We always worked with a will to keep improving our social responsibility in all areas, from job conditions to also assuring the weavers' children have access to education, that is why we collaborate with Care & Fair association, supporting their education. The future is in their hands and it's important that they receive a good education to be able to make changes.
The newest addition, Re-Rug, is uniquely eco-friendly. What originally sparked the idea to repurpose leftover wool?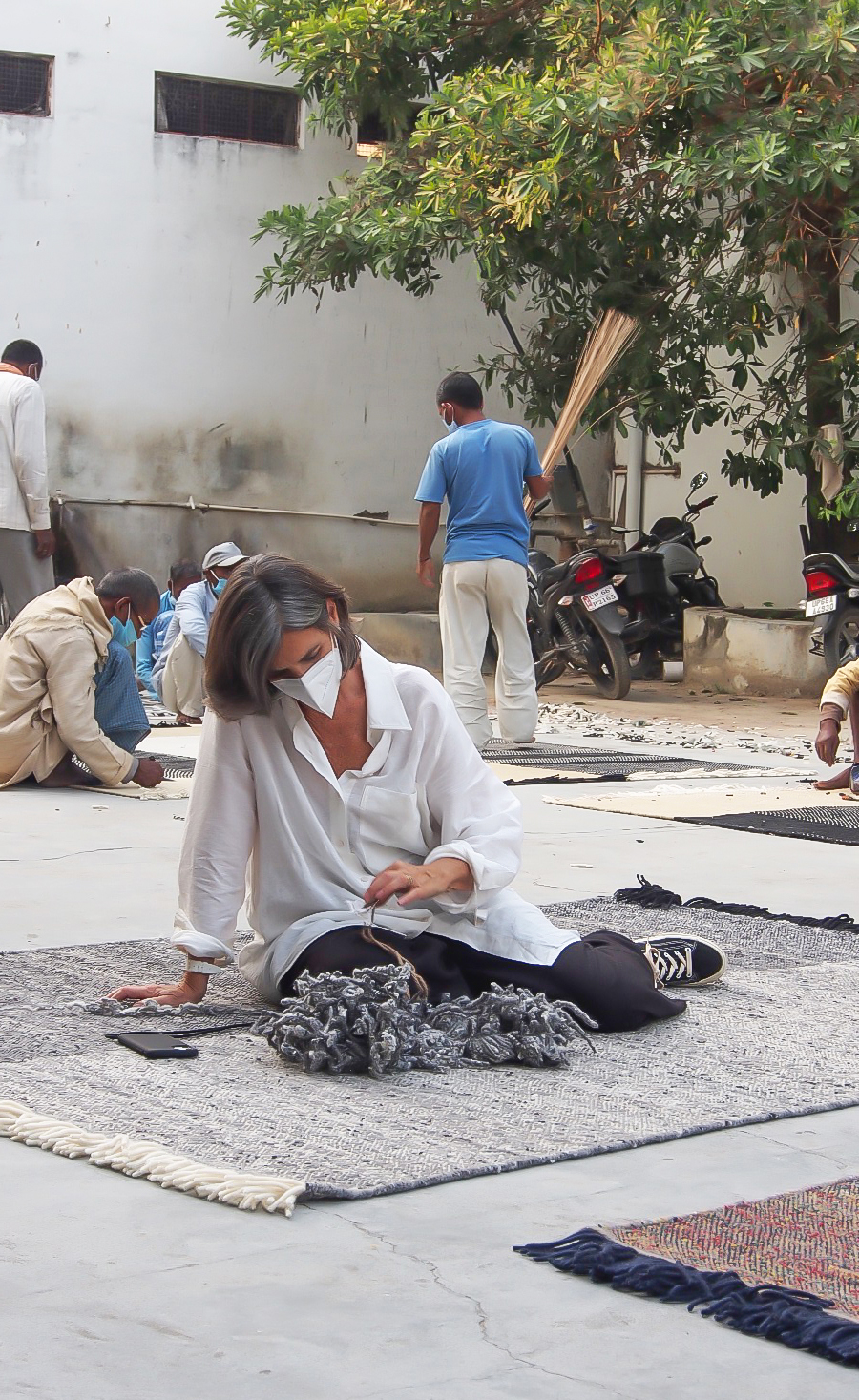 Our company has always had the need to recycle and be more sustainable. The idea of Re-Rug and the idea of making a fibre recovery line came up during the confinement for COVID. I had many moments of reflection, while the whole world was at a standstill during the pandemic; all the environmental problems caused by climate change played on my mind.
I felt restlessness and the desire to take on this project was very strong.
How has the growing push for sustainability impacted your outlook on the future?
We've always been very conscientious of sustainability, and we ensure that the entire chain—from the design conception to the choice of materials, processes, and techniques—is as respectful as possible toward the environment. Even though we're now working with an external consultancy to go deeper so last year we got the Climate Neutral certificate, which means we're offsetting our carbon footprint with some actions in India, such as generating sustainable energy to generate electricity using rice husks produced by local communities or supplying biogas cookers to farming families.
We really think that businesses are ahead of the game because we are the ones who build and make decisions a step ahead of society. That is why we are almost forced to raise awareness and set an example to the rest of society so that everyone takes action.