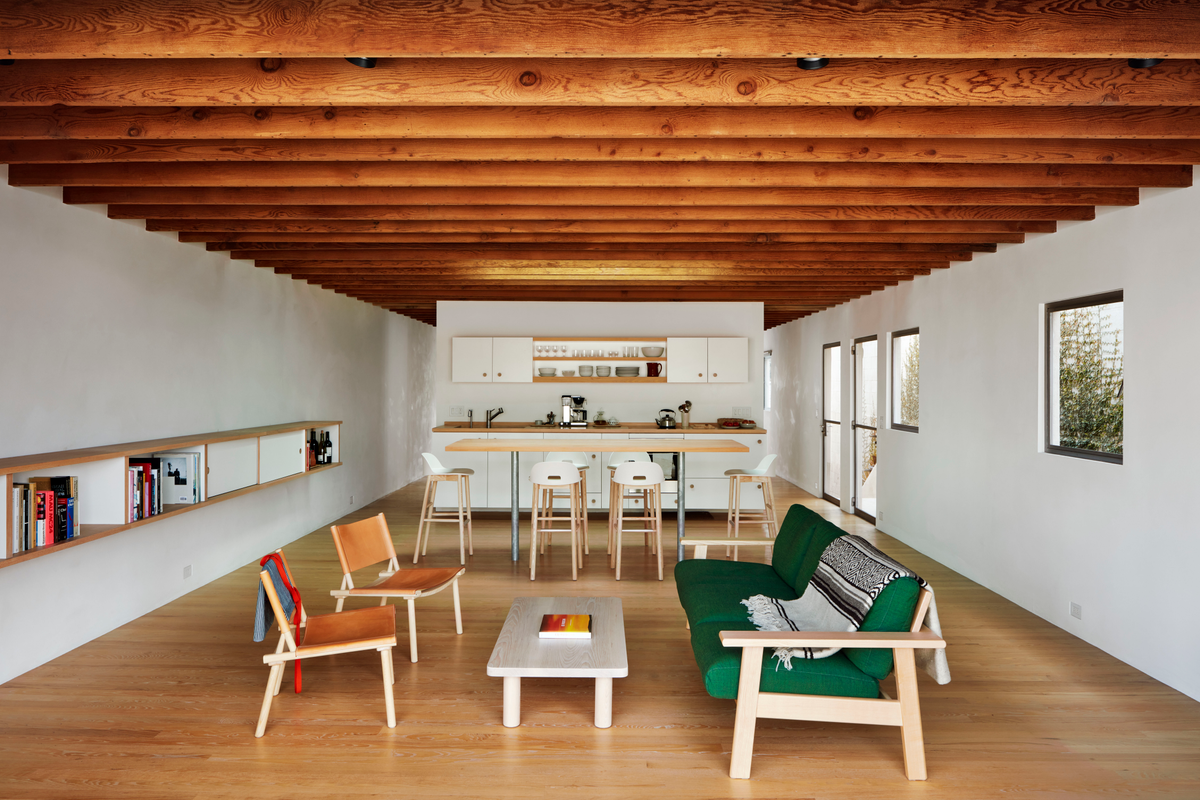 Nestled in the vibrant community of Venice, California, the Emeco House is an architectural gem that embodies the essence of sustainable design, and seamlessly blends the old with the new. From its beginnings as a dilapidated sewing shop, Emeco House has been transformed under the watchful eyes of Gregg Buchbinder, owner of Emeco, and his daughter and Emeco product Engineer, Jaye Buchbinder. With a commitment to preserve as much of the original structure as possible, and infusing it with environmentally sound solutions, Emeco House has become a beacon of sustainable living and a hub for creativity and collaboration.
Showcasing a harmonious coexistence of work, living and community engagement, Emeco House hosts exhibitions, events and gatherings that bring together architects, designers and locals alike. The carefully curated interiors, characterized by minimalist aesthetics and thoughtful functionality, create a serene environment that fosters connection and inspiration. A meticulous endeavor that took over six years to complete, we caught up with the father/daughter duo behind the Emeco House transformation to learn more their architectural mission, the craft of slow, purposeful design and more.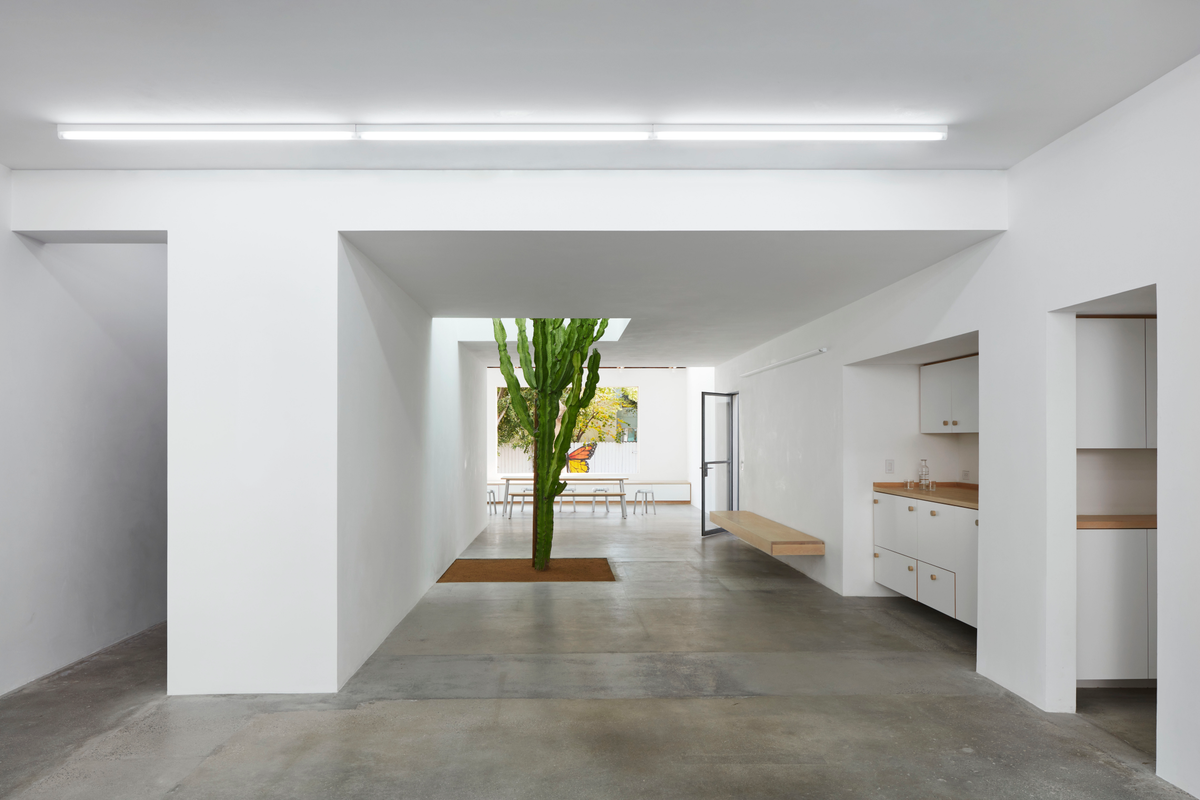 What inspired you to create Emeco House and how did you come up with the concept for it?
The inspiration for Emeco House began in 2000, when Gregg Buchbinder visited Japan. "I was walking around a labyrinth of alleyways off the usual tourist track, home to a host of tempting, run-down and quirky, creative shops. Offbeat coffee, bakery, and dining venues, florist, handmade leather goods, jewelry, secondhand bookstore and bicycle mechanic. What caught my eye was a traditional Japanese timber house. Immediately I thought it would make an amazing Emeco studio. In my travels, whenever I ventured out into these same sort of out of the way, unusual places and spotted some kind of peculiar dwelling, I'd think that could be an Emeco House. I'd dream of Emeco Houses in all my favorite cities around world. When Jaye and I came upon the old, quirky, dilapidated sewing shop in Venice, CA, that today is Emeco House, everything fell into place."
 To us, Venice represents an interesting intersection of internationality (15 mins from LAX), surf culture (waves less than a mile away), and manufacturing (metal and wood shops littering the tiny streets, not to mention creatives and makers of all varieties in a way the trendier neighborhoods may no longer have—sculptors, film makers, cabinet makers). The Emeco head office and factory is in Hanover, Pennsylvania, where it's been since the 1940s. But since we (Gregg and Jaye) both live in California, we wanted a west coast outpost that still represented the true bones of the company and that we could use to spread some "Emeconess" here. 
Can you talk about the design process and how you integrated the old and new elements seamlessly in the space?
Our goal was to transform the neglected 1940-era building into a modern space. The design process began with the intention to retain, upgrade, and restore as much as possible of the original construction, with the new additions progressively layered in and seamlessly integrated. The result is a kind of 'architectural natural diversity', with the old and new supporting each other in the creation of an indivisible whole.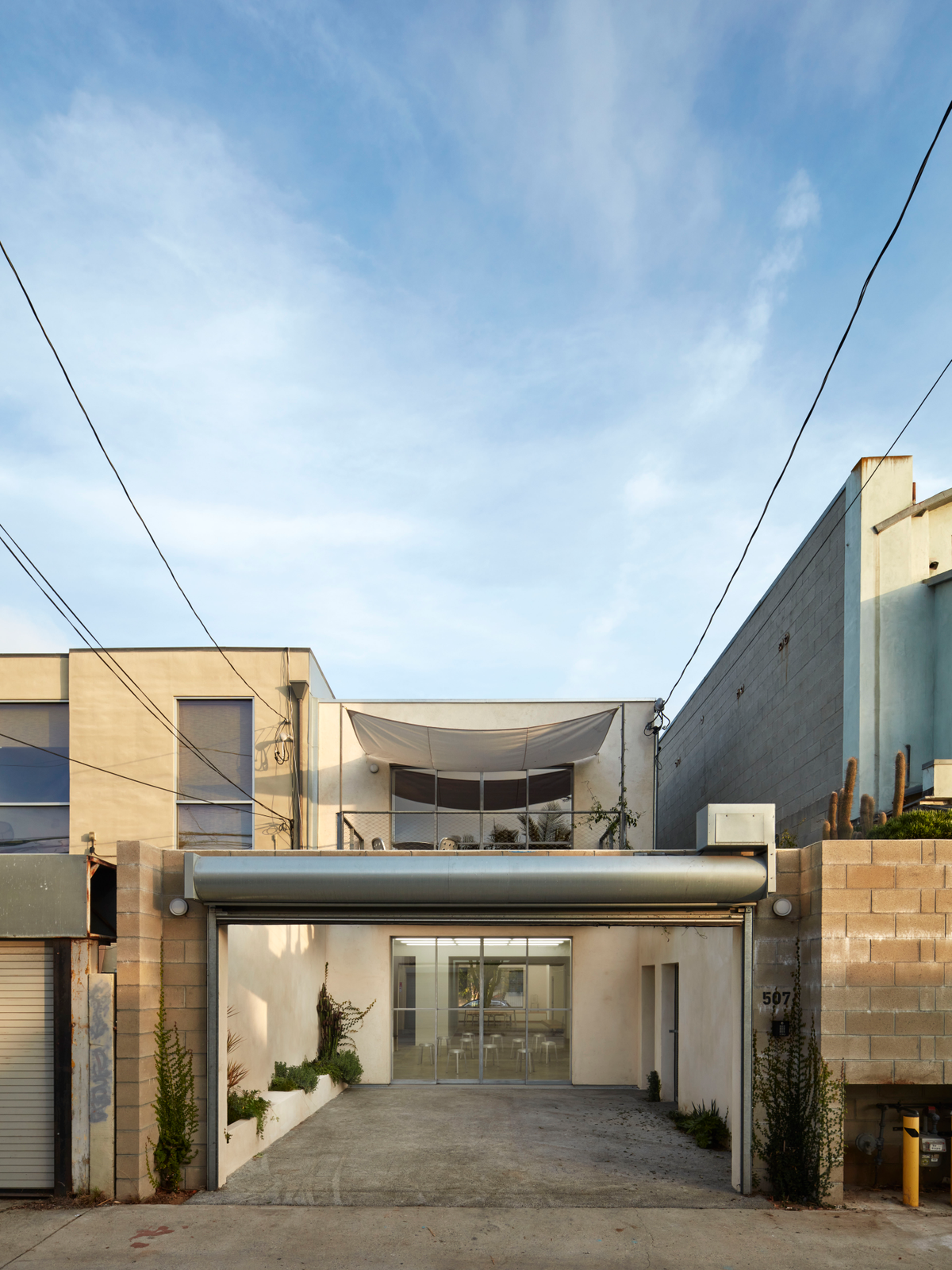 The Emeco brand is known for using sustainable materials and manufacturing processes. How did you incorporate this ethos into the design and construction of Emeco House?
Emeco House is a mark of Emeco's commitment to slow manufacturing and purposeful, sustainable design. It's no coincidence that the process took us about six years. We felt the need to approach every decision about the house in the same way we do our chairs—which extended the process, but gave us a way to codify our own priorities in a very tangible way. As a result, the house features environmentally sound, durable materials and custom solutions, realized with local contractors, carpenters, and fabricators.
Can you speak to the importance of natural light and ventilation in the design of Emeco House?
The goal of a zero-energy, self-sustaining operation is achieved through solar energy, with the central light-well and skylights introduced to bring natural light to each space.  Each is equipped with operable vents or fully retracting to effectively generate passive ventilation and cooling within and between the levels of the building. When it heats up, the louvers tilt, allowing hot air out, cycling the air through the large windows and up out of the space. When cold, the louvers shut, keeping the space more insulated. Southern California is an obvious place to use these techniques to keep energy usage low.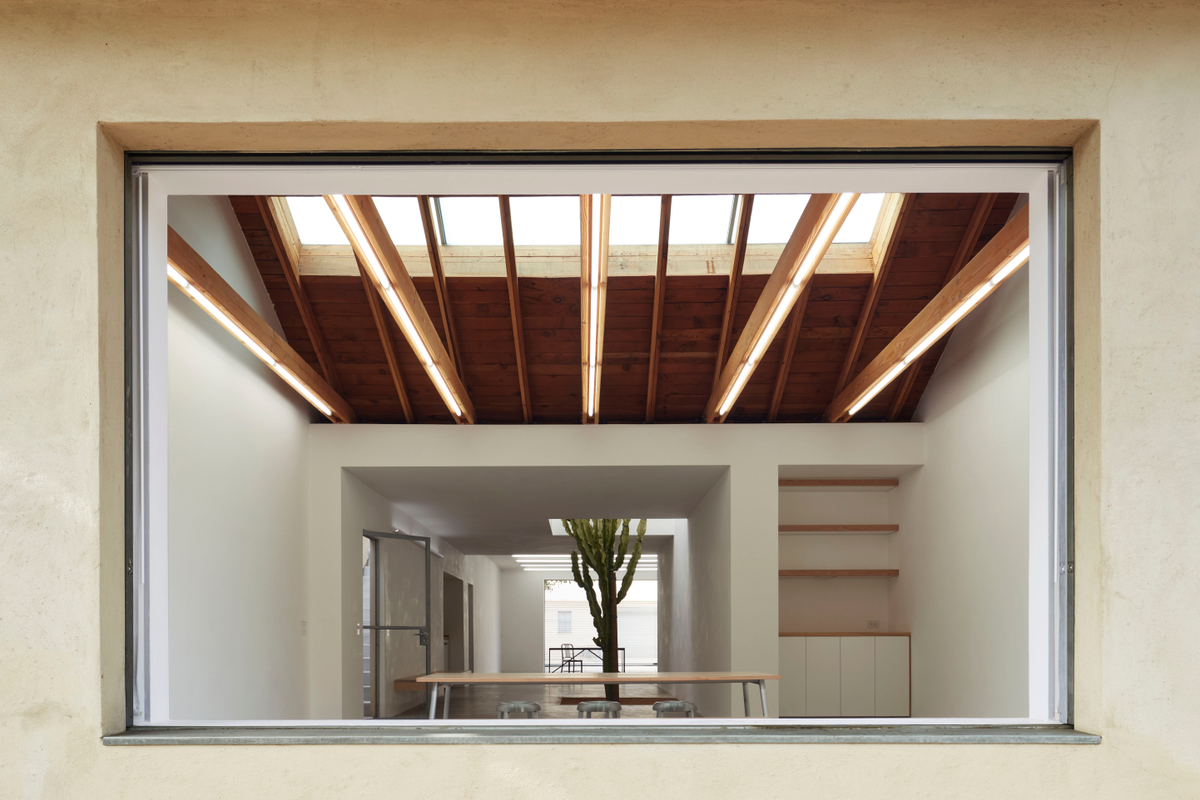 Can you tell us about any future plans or projects for Emeco House or the Emeco brand in general?
It's our hope that Emeco House will serve as a venue for important conversations around sustainability, craftsmanship, and longevity for many years to come. Since we opened our doors just over a year ago, we're proud to have hosted events as diverse as a showcase of MIT student projects exploring the future of sustainable furniture; Oaxacan wood carving craft, a panel talk exploring different expressions of Purpose and the Venice Backgammon club! We hope Emeco House will continue to bring people together for enriching and inspiring meetings.
What role do you believe sustainable design plays in the future of architecture and interior design?
'Sustainable' is applied to a lot of things these days, and while the intention is often good, the truth is that we all have an impact on the planet. As a manufacturer, we have a responsibility for the products we put out in the market and we work to minimize our impact as far as possible—by making use of waste streams; sourcing and making everything here in the US; measuring our carbon footprint and most importantly, by making things that last. Many of our chairs are guaranteed for life. 90% of our product range is made from recycled materials. To us, that's nothing new, we've been doing it for 80 years. Because it just makes sense. 
How does Emeco House align with Emeco's overall mission of "Begin with what's left over. Turn it into what will last"?
When we came across the old sewing shop that today is Emeco House, it had been neglected for years. Despite its state, it didn't sit well with us to join the ongoing demolition of buildings in the area, often replaced by insensitive, new constructions. Instead we chose to retain the existing building in keeping with our primary intention of creating an active and connected place in the neighborhood for community events and activities. We restored as much as we could and upgraded the building with environmentally sound solutions and materials. We've built Emeco House to stand the test of time and sit lightly on the planet—just like our furniture.